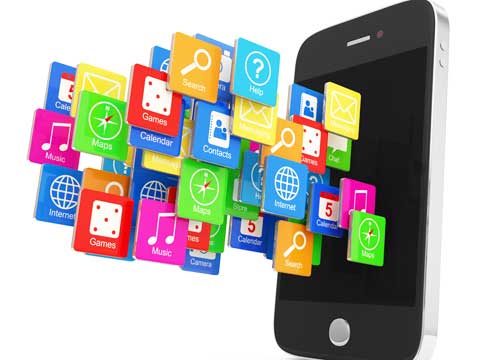 Building apps for an Apple or Android device can be a highly lucrative venture for application developers, but the real challenge lies in structuring a proper monetisation strategy for 'how will this app make money?' Before moving forward with a monetisation strategy, there are a few questions an app developer should explore to answer the most obvious questions like how can I monetise my app? Is my app engaging enough for people to use it often? How willing are people to pay an up-front fee for my app? How do competitors in my space monetise their apps and how successful are their strategies?
A sneak peek into the mobile apps world
The Indian mobile application industry is considered as one of the niche industries. Hence, the opportunity to establish oneself as the category leader exist in this segment. The prospect of mobile marketing through mobile applications is huge in India and the time has come for it to take off in a splendid manner. However, challenges are there in terms of handling and overcoming the waves created by the plethora of applications.
Ravi Sundararajan, COO, TeamChat says, "It's hard enough to get discovered by consumers among the millions of already existing apps, not to mention, convince people to buy it. People increasingly prefer free, ad-supported apps for their tablets and smartphones, yet many developers still aren't sure how to tackle the free versus paid issue. Deciding on when to charge for your app, and when to try an ad-supported model, is one of the hardest decisions developers must make."
As application market across mobile platforms in India is flourishing, deciding on the right monetisation model is becoming an uphill task for the developers. A plethora of options are already available in the market, which encompasses selling of apps in the app store, free download with subscription fee based on the usage, free app within app purchases and free app with advertisements.
"But the choice really boils down to two strategies: getting paid by users or getting paid by advertisers. Who pays more for Apps: Users or Advertisers? When it comes to users, the overwhelming majority of the Android and iOS users resist paying - whether it's for apps, subscriptions, or add-ons–so smartphone and tablet developers are particularly interested in experimenting with monetization through ads. On the other hand, advertisers are much more willing to pay developers than users are. Just like developers, advertisers need to market their product," Sundararajan mentions further. 
Building a successful customer base
Haptik, a smartphone app that enables users to chat with customer support team for help with products and services, is available on both iOS and Android devices free of cost for more than 200 companies.  
Aakrit Vaish, CEO, Haptik Inc says, "The growth has been purely organic, depending majorly on word of mouth publicity. Google Play handpicked us as one of the best utility apps along with likes of Dropbox, Gmail, and others. Haptik is the only Indian app to be featured in this category. Currently, we are also ranked 78 in the utility category in the play store. With active Twitter presence in resolving queries and great PR, we have come a long way in the span of six months."
Another start-up Vavia Technologies has developed an app called 'Confess' - India's first anonymous social network app that allow users to share secret confessions with their connections and groups without any inhibitions. Users posting confessions on this application will appear to all of their connections using the app.
Alan D Souza, CEO, Vavia Technologies shares, "The most important aspect of building a loyal customer base is to impress a customer by punctuality, delivering quality and professionalism, rather than pricing. We understood early on that we were in the business of building the technology for dreams of our customers. Most of our customers hired us to build products to launch B2C, B2B businesses. Delivering the right product quality in the promised time helped us bag maintenance or future development retainers as well."
Unlockar, a lock screen app that serves rich media content through its various free and premium channels that can be subscribed at will by the users. The channels include classics like Incredible India and real time updates like news, scores, stock tickers, weather updates, movie reviews, deals and discounts among many others, served directly on the lock Screen.
Piyush Paul, Founder and Directtor (Marketing), Unlockar Apps Pvt Ltd averts, "We have forty thousand plus beta testers within 4 months of our launch. Most of our user base came to know about our app through word of mouth from happy users, considering the instant gratification that our app offers and from the extensive media coverage that our unique concept got from various media houses."
How does the revenue model works?
The future of app monetisation clearly lies in ad-supported models. A recent study by Cambridge University computer scientists found that 73 per cent of apps in the Android marketplace were free, and of those, 80 per cent relied on advertising (their main business model). Free apps are also far more popular in terms of downloads, the researchers said. Just 20 per cent of paid apps are downloaded more than 100 times and only 0.2 per cent of paid apps are downloaded more than 10,000 times. On the flipside, 20 per cent of free apps get 10,000 or more downloads.
Sundararajan further states, "The best part is you can deploy Multiple Monetization Strategies, while free apps reach the majority of users who tend to be price-sensitive and almost never buy apps; there is a subset of users who prefer to avoid advertising and seek paid (sometimes called 'pro') versions of their favourite apps."
Nous Global Markets, a London based company aiming to discover and train the next generation of trading talent has made its India entry with the launch of 'Spark Profit' application. Spark Profit is a free to join, free to play and free to earn virtual trading game. 
Justin Short- CEO & Founder, Spark Profit, avers, "We have a completely unique revenue model. We collect the prediction data generated by our users, and sell it onto a few specialist investment firms such as hedge funds. They use the wisdom of the crowds and also the very best of the players, to improve their own trading and earn huge profits. We are a privately held company and do not share our revenue projections."
However, Haptik which was founded in the year April 2014, informs that they don't expect to generate any revenue in the first fiscal year and added that they are looking at about $1 million in FY' 15.
When asked about the revenue model, Aakrit Vaish, CEO, Haptik says, "The only revenue model is companies plug into Haptik to directly handle chats and engage with their users, and we charge a basic pay-as-you-go platform fee for the same. Our primary focus across the company currently is to get as many users as possible to use the app." 
Vavia Technologies has informed that it has been profitable since the first year and has constantly been making technology or product investments and that helps the company to launch all the products. "Our revenue model is mainly through operator billing and more transaction oriented. We charge based on queries or transactions made on our products," noted D Souza.
Deployment of multi monetizing strategies is the best way an application developer can look at in terms of generating significant revenue. Free apps reach the majority of users who tend to be price-sensitive and almost never buy applications and further there is also a set of users who prefer to avoid advertising and seek paid versions of the applications.  
The business model of Unlockar is to charge advertisers for the most premium real estate on mobile phones - the lock screen, and distribute a part of the revenue to users in the form of rewards, thereby subsidising the users' monthly expenditure on their mobile phones. Apart from lock screen advertisements, the company highlights that in-app advertisements and sale of offers and deals from strategic partners constitute a major chunk of their revenue stream.
Paul from Unlockar maintains, "It has been just five months since we launched our product for public and we have been generating revenues on the lines of $100 per thousand active users per weeks."
Survival Strategy
Application developers can cater to both types of users with a two-prolonged approach to app development: create both a free version and a paid one, whereas, multi-pronged approach is popular with big players in the publishing industry. Further, before launching a new application, it is crucial to ensure that a developer should investigate all ad-supported revenue options.  
Vaish from Haptik admits, "We have got a very positive response so far from the market, and our users love the platform. We are very active on social media, as well as press outlets love covering our solution. We will continue to build upon that, as well as engage in paid online, mobile and offline advertising."
Meanwhile, D Souza from Vavia Technologies informs, "To help app discoverability, we recently launched FreePaisa that helps app developers reach a targeted base."
The finest way to attract users is to reach them either through their existing friend network - referrals or by creating a spike in the number of downloads, to improve organic ranking of the play store.
"Our strengths include easy access to mentors and industry experts, our end-user interaction and intellectual property generation. Playing to our strengths, we are working towards becoming a leading lock screen platform to keep the users socially and locally updated with information. We have concentrated our marketing efforts to online marketing that includes activities on various social platforms and SEO. Encouraging users to indulge in word-of-mouth marketing also forms a major chunk of our marketing efforts," concludes Sundararajan from Teamchat.