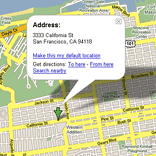 Google 'physicians followed by the name of your city' and you will get a list of physicians in your city. If you are having a full fledged offline business and still want to appear in search engine search results, then you can get it listed using Google Maps under the -Local Business Center. This is a service by google which allows you to put your business details on the google maps for free.
To obtain a pin and business listing, Google requires you to fill up a form with all the required details. Once you have filled up the form, your listing appears on the right side after which you can add other details about your business. Add as much detailed and relevant information as possible to make your listing a bigger target and more helpful for consumers. Be sure to include a photo and your website or blog address. At the end of the process, Google informs you that it must verify your business before your listing will appear. You can choose to obtain a PIN to verify your listing via the U.S. Postal Service or have Google call the business phone number.
You are also required to validate your listing by phone or SMS which can take about 2-3 weeks time. The phone option can be selected to instantly verify your listing.
After you have completed the verification call, you will find a message of 'Thank you! We have confirmed your PIN and validated your listing.' In most cases your listing on google appears within a day after the verification.
This is an effective way to get your business on the map. However one should not overlook Yahoo maps and other sites as well. There are countless sites that allow you to list your website and company information for free. Try Yellowpages, superpages, and dexknows.com for starters.