ERP and SME
ERP or Enterprise Resource Planning is a strategic tool, which equips the enterprise with the necessary capabilities to assimilate and orchestrate isolated functions into streamlined business processes
Tags: ERP, SME, Resource, Planning, Enterprise, Technology
BY Entrepreneur | Jul 20, 2011 comments ( 14 ) |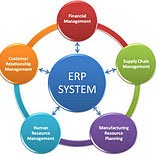 There is a revolution in Information Technology and the reduced prices of computers are making it possible for even small businesses to afford computers. ERP automates the tasks involved in performing business processes such as order fulfillment, order processes, payments, material receipts, material requirement planning, invoicing and makes the same data available to all the other functions. It also optimises the resources available in or to gain advantage in the turbulent competitive environment.
The main bottlenecks in adoption have been lack of awareness vis-à-vis large organisations.
Drivers
Increase in operational efficiencies
Increase in labour and capital productivity
Reduction in fix and variable cost
Integration with tier 1 supplier, sub-contractors and distributors
Peer pressure
Competition
Moreover, the demand from the large OEM players to streamline their operations and drive the demand will wake up the SMEs to streamline their efficiencies. Indian SME will have lot of options to choose from at very competitive prices. ERP vendors are willing to offer packages in 4 to 6 weeks as part of their offer to provide convenience to small traders.
Areas of application
SCM-Supply Chain Management
CRM-Customer Relationship Management
BI-Business Intelligence
PLC-Product Life Cycle
Product Data Management
Inventory and Warehouse Management
Advantage
Reduced planning cycle time
Reduced manufacturing cycle time
Reduced inventory
Reduced error in ordering
Reduced requirement of manpower
Enables global outreach
Increased customer satisfaction
Better utilisation of resources
Enables faster response to changing market conditions
Challenges
Low level of awareness
Wrong perception that ERP is meant only for large organisations
Earlier failed implementation has scared other SMEs
Low budget
Limited resources like lack of internal IT team
Conclusion: The spending on ERP is increasing worldwide and is poised for growth in the next decade. Some of the reasons for this are:
Vendors are increasing the capabilities of their ERP system by adding functionalities like BI, SC and CRM etc.
Vendors have shifted to web based ERP
Perceive benefits of e-commerce
Several markets are unexplored
As Pankaj Chaddah, COO, Zomato shared, "Even though startups begin with excel worksheets and other temporary ways of organising themselves and their teams, as you scale up the need of an ERP increases exponentially. The upside realised by putting in a two day effort into picking the right solution is really significant". So, reach out to the nearest vendor and get going if you haven't installed it yet.
Please add your comment
pravin
September 03, 2011 at 9:29 pm
Please send more information on this
Reply |
John
August 17, 2011 at 11:52 am
Please send me more details about this opportunity, including commercials.
Reply |
Mamnoon
August 13, 2011 at 4:02 am
Let me know how to contact you for further discussions.
Reply |
vijay
August 10, 2011 at 9:24 pm
pls give me more details...
Reply |
vishwas
August 09, 2011 at 4:11 pm
Pls. let me know whether it's franchise, investment, option available, details , local offices etc.
Reply |
Nithin T S
August 07, 2011 at 12:12 pm
Kindly send me details about this , whether its a franchise , request you to send what is role of franchise owner in this ,also required capital for starting this business
Reply |
RAHUL BHALERAO
August 05, 2011 at 11:55 am
Pl. send me details and other deep information about it and also franchise details of this offering.
Reply |
negi jagpal
July 28, 2011 at 11:31 pm
Pl. send me the franchise details of this
Reply |
Sri Kumar
July 27, 2011 at 6:01 am
Pl. send me the franchise details of this offering. I am interested.
Reply |
unnikrishnan
July 27, 2011 at 12:18 am
pls forward the details
Reply |
PARAG SAXENA
July 26, 2011 at 12:25 am
KINDLY SEND ME THE DETAILS, HOW TO ASSOCIATE WITH YOU? HOW MUCH AMOUNT IS REQUIRED FOR FRANCHISE
Reply |
nagarjuna.k
July 23, 2011 at 11:21 pm
pl give details of this offering in visakhapatnaman and also approximate budget for the same.
Reply |
LALIT
July 21, 2011 at 5:03 am
PLZ CONTACT I AM INTERESTED.
Reply |
Abhay Parashar
July 20, 2011 at 9:50 pm
Kindly send me more information about it.
Reply |