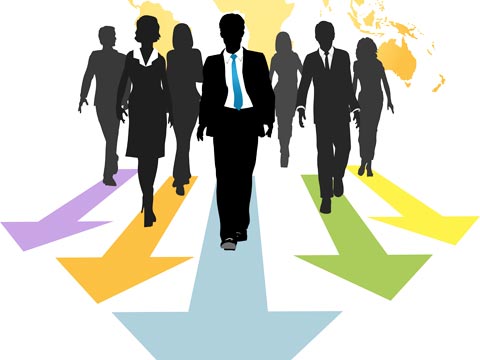 Indian economy is considered as the tenth largest economy across the world and it being driven by some of the flourishing sectors like telecom, software and information technologies, infrastructure, tourism, education, health care, travel, trade, banking, etc. But there are some factors that are creating disruption in the growth trajectory of these sectors.
TiEcon Delhi 2014, one of the largest entrepreneurial conferences in the country, witnessed over 1,100 participants on its first day. Aligning with the theme of 'Abki Baar Disruption' the event hosted game changing players, who have been disruptors in their own space.
At the TiEcon event held at Taj Palace, New Delhi, Navyug Mohnot, Co-chair, TiECON, Delhi said "This year TiECON platform was unique in terms of theme and attracted a healthy mix of investors, entrepreneurs, mentors and also students. It has been our constant endeavour to nurture and mentor the start-up landscape in best possible."
Political instability, corruption, scandals in private and public sectors continue to dominate the Indian corporate space. However, on the other hand, experts say that the opportunity for doing business in India is driven by the development of electronic connectivity across the country. Modern and healthy economy can only come if there is proper financial inclusion and technology-enabled infrastructure in the country.
The two day conference includes several exciting sub-themes such as Internet of Things: Find where you and your products stand as everything gets connected and how to leverage the technologies of tomorrow. Design Thinking: How design-specific cognitive activities that designers apply have come to be the mainstream for any business and activity. SMAC: How Social Mobile Analytics and Cloud are changing the way we do business. Travel/Lifetstyle/Design: What are the trends in these mainstream businesses? Social Entrepreneurship: How BoP has to move with the mainstream and how it makes for the irrefutable foundation of our society.
At the event, Punita Lal, Strategy - Marketing and General Management, Professional said, "Digitisation has remodelled cost structures, value equations and the entire value theme. Though businesses are grappling with change, but remodelling has taken place helping minimise the business barriers in India. Healthcare, payment, education, travel are some of the sectors which are going to be re-energised in near future. There are businesses which are re-emerging and re-defining themselves as huge set consumer trends are coming in that can conflict the disruption in the industry."
India is largely known for its informal sector and its activities. The emergence of start-ups in every sector has changed the overall scenario of the business models and the structural design of corporate in India. However, to maintain the sustainability in the market place, discovering the risks in the route towards achieving growth is very crucial. Indian economy has also witnessed many unsuccessful stories of many entrepreneurs which raise concerns of identifying and mitigating the risk factors in every stages of business.
Speaking at the occasion, Sharad Sharma, Co-founder, iSPIRIT, said "The change is so fast that regulation is not able to keep pace. There is an informal sector developing in India and we are comfortable with the informal economy. We are accustomed to cash based informal economy and therefore India will thrive in near future. Regulation is one of the biggest challenges for businesses in India. The key issue lies with payment gateways. Hence, RBI has come up with many initiatives that are affecting the growth of India's business landscape."
On the sidelines of the show, Ashish Dhawan, Founder and CEO, Central Square Foundation, said "The formal market will not grow like the informal market." Citing the example of the education sector, Dhawan further added, "In education space, coaching and tuition business comprises a huge informal market. In West Bengal, 10 per cent of the students go to private school whereas 90 per cent of them go to government school. Among them, 61 per cent take up tuition as the means of education."