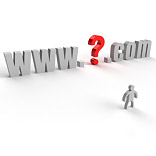 Most small business throw a lot of effort towards owning a great domain name for their company. If your desired domain is easily available, that brings tremendous satisfaction and confidence to begin. Having a great domain is specially relevant in the case of online businesses. However have you ever thought that owning a domain in your own name, say www.kanojatekde.com is even more important.
During the course of your journey as an entrepreneur or a professional, it can be frustrating to know that someone else in some another corner of the world with the same name as yours, owns the domain in your name. Let me site an example here. Suppose Kanoja Tekde is a technology entrepreneur who has developed a product to change user behavior for mobile products. His product becomes quickly popular and just two years into business, he is almost at the cusp of fame. One day he googles out his name hoping to find his name on the first page itself. However Kanoja is surprised to find a site, www.kanojatekde.com carrying information about a college dropout in Singapore who runs a blog with a domain in his name. Needless to say that if you were in the place of Kanoja, you may have been dismayed to a great extent.
It is nothing new to say that online presence has become indispensable now. So if you are aspiring to or have already established your presence in a particular field, you can be sure that people will google out your name to find information about you. You yourself google out your name. Don't you? You are a brand in yourself, so it will be desirable that those googling out your name, find correct and the best possible facts about you. Your prospects can also get your details on your company website but smart searchers will google out your name first. In that case, how will you control the first information provided by search engines if you don't have a domain in your own name.
The most important points supporting my argument are that it takes little pain and investment to buy a domain name. Google out domain providers and you will find many sites where you can book a domain online for as little as Rs. 400- Rs. 500 which is normally charged on an yearly basis. With a little more investment you can set up a simple 2 pages website which highlights your major achievements, brief information about the company you started, your strengths as a professional and other details which can create a very strong first impression about you.
However the caveat here is that you have to be as quick as you can as far as booking your domain is concerned. In fact it is best to do it even before you start a venture or right when you are in college. You should be swift enough to pre-empt someone else taking over your name. You may choose to never set up a website with your domain name, however buying the domain will satisfy your purpose. At least someone else will not be able to put up anything contradictory in your name.
The last word. Buying a domain in your name is the best and the minimum investment you can make in yourself and this simple effort will save you from a lifelong regret. So do it now!