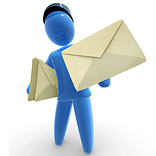 How many times have you tossed away a shabby and crammed text that was full of boring lengthy texts, jargons, cluttered with words in all possible fonts, some bold and some in italics? Probably that's what consumers might be doing to many a sales letters that businesses mail them after putting in a lot of effort.  
A sales letter, rightly called a salesman in an envelope, is one of the most powerful tools to market your products / services directly to your potential or current customers. Either as printed letters or as emails to your target, sales letters are one of the most affordable marketing tools for small businesses. But what is important, is to frame just the right copy which generates interest in consumers and later translates into purchase.  
Achieving this can be simple – stepping into the consumers shoes. Think why you would read a sales letter that you just received while coming back home, after a tiring day at office. Some of the simple steps that a business should tak e to frame an effective sales letter are listed below.   
Look and feel of your sales letter  
When a consumer unfolds a sales letter, the first thing that motivates or demotivates him/her to read through the text is its look and feel. You may be offering something great but if your text is messy, then your effort to catch the consumer's attention has already gone down the drain.   
Keep it crisp
Make your sales letter as crisp as possible. Break your text into short paragraphs and try to keep your lines short too. Lengthy texts run at the risk of repelling your readers. 
Avoid Jargons
Use simple words lucid language. Usage of complex words will only strain your readers.  
Fonts
Use one or maximum two fonts for your text. Make use of italics and bold tool judiciously.  
While Drafting a Sales Letter  
The Unique Selling Propositions of your products/services must be put across to the consumers through the sales letter, in such a manner that it persuades them to purchase it. One of the best ways to do this is employing the simple and effective AIDA formula. Here A stands for Consumer's Attention, I for their Interest, D for their desire and A for their action.  
Catch your consumers' Attention 
We immediately take note of ads that say '10,000 minutes of talk time free!' or 'Buy two X shirts and get one free.' The same works for sales letters. Headlines act as hooks to your letter. So, developing innovative and interesting headlines that instantly catch the attention of your prospects is important to lead them to the text.  
Instead of starting off with the benefits of your products/services, first talk about the problem to which you are providing solutions. Communicate in brief about the intensity of this problem, empathize with the consumers and tell them why it is essential to resolve the same.  
Maintain their Interest  
Immediately after talking about the problem, introduce your products/services as the perfect solution to it. Then talk about their unique features and its benefits in a concise and eye catching manner. Tell them how their lives would be simplified and hassle free with the adoption of your offerings.   
Arouse their Desire
Once your consumers have read so far, the next thing that would be on their minds would be, 'Why should I purchase this? Why not Z company's product which my friend uses?' To answer these, put forth certain compelling reasons as to why a consumer must go for your products/service over your competitor's.  
State the unique advantages that your consumers would have, if they avail your products / services.
Provide guarantee for your products /services.
List out the testimonials of your current users.
Provide discounts if they avail your offerings within a particular period of time.
 
Catalyse Action 
Once you are through with all the explanation, motivate your prospects to act and purchase your offerings by providing them attractive additional benefits, like gifts or discounts. Give them something that is more than they would otherwise obtain, if they buy your competitor's products.  
By the end of the letter, a convinced consumer or a partially-convinced consumer would want to contact you for more details. So provide your complete contact information and details regarding ordering the products / services instantly. Give them a bouquet of options as to how to order - through e-mail, postal mail, FAX, telephone, SMS etc and also the mode of payment.