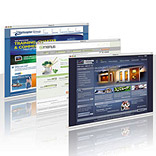 Every business, whether small, medium or large, craves to catch the attention of media. The reason being, media coverage is indispensable for you to directly reach your prospective and current customers, investors, suppliers etc. The easiest, most effective and economical way to do this is to set up a detailed Media Room section in your website that is equipped to provide quickly, all the information that a journalist might seek, sitting anywhere in the world at anytime. This is not only convenient for the companies but also for the journalists who can access plethora of information about you, at their fingertips.
What should be there in your website's Media Room?  
Press Releases section that contains latest news and archive press releases.
Concise backgrounders that provide background information about your press release, contains a brief history of the company, the products and services it provides etc.
RSS news feed  option, or an e-mail notification  option that a journalist can subscribe to and can automatically receive updates from the media room. 
Downloadable images of leaders, products, logos and company's office in low, medium and high resolution which the journalists would need to supplement their news stories.
A Media Reports section that enlists news stories about you, that have appeared in different media, as journalists would always want to know what other media has covered about your company. 
Articles written by the leaders of the company, their interviews and speeches can be made available.  
A search tool that enables journalists to quickly search by name of a person or product / service or date. 
A Media Query section that contains phone numbers and e- mail IDs of your Corporate Communication department, so that they can quickly get the required information or can get an interview fixed without unnecessary delay. 
A list of upcoming events that the company is organizing and how a journalist should go about, if he/she wants to cover the event. 
Downloadable videos of events, press conference, product features, advertisements and downloadable audio of speeches by leaders in your company can be placed in the media room. This will enable journalists who couldn't be present during the press conference, to gain an understanding of the news, by watching it online. Also if they find a particular video interesting they might just mail the link to others, which is great marketing for you. 
A list of awards and honors that the company has received.
Testimonials about the company by customers and employees can be placed along with their names and if possible, contact numbers too. If a journalist is thinking of writing something about you, then he is sure to get inputs from these employees and customers to understand your company's values better.  
Apart from providing news about your company, if you can provide news about your sector too, then your website will definitely become a hit amongst journalists and getting them to read your own news would become easier. 
A list of leaders of your company and their brief biographies.
Links to your profiles in Social Networking Websites like Facebook, Twitter etc. Intel's Press Room section has this feature.
Though there is a lot that a company can incorporate in the Media Room section it is important to take care of certain things –  
Think Simple – This section must be given a neat and simple look as journalists have to gather maximum information within minimum time.
Free access – It must not be mandatory for journalists to sign up into your website so as to access information. Signing up is tedious and eats up their time.
Easy navigation – Your website must facilitate easy navigation between its different pages.