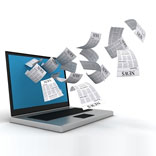 What do you do if you have to announce the launch a new product, an upcoming event or your company's expansion plans? Conventionally you will get the press release prepared by a PR agency and then it gets distributed to media organizations and journalists through them. Thus there is a cost attached to this entire exercise. However by posting your press release online, you save yourself this added cost and maximize your reach to your target audience at the same time. Not only do you get your message across very effectively but also drive traffic to your website. Find out how.
Key Features      
The ultimate purpose of writing a press release is to get the information to as many publications as possible. In the same way, when you are posting your press release online, your focus should be to take it to as many websites as you can.
According to Dolly Bhasin, SPH Consultancy, 'A press release should have key words rich headlines and content, and should have back links to various sections of the parent website.' The more the number of back links in the Press Release document, the more would be the traffic that returns to the parent website.
Further more it should be currently dated and have some novelty so as to have news value. 'It is must to submit your press release to PR websites with high ranking on Google,' adds Dolly.  
Create RSS feeds
Another way to get maximum leverage out of press release is to create RSS feeds of your press release. RSS or Really Simple Syndication is a web feed that is used to publish frequently updated content such as blog entries, news headlines, audio, and video. An RSS feed is usually a summary which points to the URL with the full content and metadata such as dates, and keywords. This helps the content syndicators as well as news aggregators to pick up your news without much effort
Types of Online Press Releases
Rakesh Ojjha, Internet Marketing Consultant at E2 Solutions says, 'There are different types of websites which enable you to publish your press release'. There are ones which allow you to publish it free and others may charge you for the same'.
Free releases with no links allowed - These are press release sites that allow you to submit press releases for free. But the drawback is that you can't have any active links in your release. If you are purely looking for some exposure with no SEO (Search Engine Optimisation) benefit whatsoever, you can still make use of these services.
Free releases with links allowed but no anchor texts - These are services that allow you to include 1 or 2 URLs in each press release. But these are URLs, and you cannot have your choice of anchor texts. So unless your URL contains your target keywords, you are out of luck.
Paid releases with links and anchor texts allowed – These press release services enable you to a publish a press release with at least 2 back links included. You are also allowed to choose your own anchor texts.
How it Works
When you publish a press release online, traffic will come to you in four sources.
Direct traffic
Once published, your press release is syndicated across a wide network of news related sites. Readers who find your headline interesting will read your story and click through to visit your website.
News subscribers
A press release service will also submit your news story to news sites such as Google News, EIN News, Topix, NewsBlaze Daily News, and more. These wire sites already have an existing database of news subscribers. When you publish a press release, these subscribers will see your news article in their news reader. They will then visit your site to learn more about what you have to offer. These News wire sites combine to offer millions of visits each month.
Search engines
Of course, the most valuable source of traffic comes from the search engines. This is a long term traffic source because your news article remains online indefinitely. After the initial traffic surge from the news wire sites tapers off (usually after 3 weeks), you will then be able to depend on the search engines for a consistent stream of long term traffic.