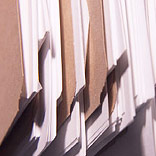 From the start of your business one thing which you always tend to or like to avoid is proper documentation/paper-work related to day today operations of your business. Although you must be dedicated and workaholic but it's just too hard to work on this. It's true that documentation involves some initial hard work, which can be frustrating, but in the long-term, the investment pays off a thousand times over.
Here are some of the key advantages of documentation:
1. KEEPS YOU ON TRACK
If you write down your strategy and principles, personal distractions won't push your operation into backsliding or paralysis. In your documentation, you will lay out your ambitions, strengths, target markets, and how you will get there. It will all be there with no questions or confusion. You may slow down a bit when things get hard, but you will still be headed in the right direction.  
2. ORGANISATION GETS STREAMLINED
If you want your employees to be efficient every time then you need to write down exact instructions for doing those processes, and then get your people to buy into the strategy. This documentation is for those workplace tasks performed over and over again. By outlining what's and how's of your business, your group-effort will become focused and directed which will make your organisation reach goals sooner.  
3. TRAINING TIME REDUCED
Apart from an organised structure/ work environment proper documentation also helps in reducing training time of new employees drastically. It facilitates the new employee to spend his or her time alone, learning the job through the documented training procedure. They do it themselves and so the senior people are not caught up in one-on-one training of newcomers.  
4. BIG PROFITS & REVENUES
Your hard-work and valuable time spent on documented procedures will make your organisation dramatically more efficient. No longer will there be endless confusions because you will have documented all of your processes leading to efficient, quick and cost-effective working. With every system functioning super-efficiently, the end-result will be great bottom-line profits.
5.  PROFESSIONAL APPROACH
For your employees and your clients, your documentation will signal that you are a professional, someone who cares enough about what they do to write it down and analyze it. You will have an entity that will be easy to sell someday. Since everything is documented, the new owner can take over the business without having to go through the learning process.