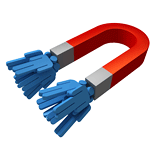 Do you push your products to your customers or your product pulls customers? Is there a difference between the two? Yes! These are two different strategies. A push strategy is an active engagement with the target audience or customers with the use of company's sales force and trade promotion activities like advertising on major websites, e-mail marketing, telemarketing, telesales and cold calling. While a pull strategy is wherein a customer requests the product and "pulls" it through the delivery chain. It involves active 'development' of a highly visible brand so that it creates a need for itself. Dell pulls customers as they develop computers as per the need of the customers. Other examples are of the brands that are actively promoted on television and other media.
"You need to understand your target audience to know, which strategy would benefit you the most, if your customers are high end, then you should pull them towards your product" points out Vivek Sharma, Marketing Head, Amby Valley- Sahara Lake City. It's important to know, under what circumstances are the pull and the push strategies beneficial.
When should you use a push strategy?
When your product or service is new and there is very less or no market visibility then it is the push strategy that will help you.
If your main objective is to sell as much units of the product as possible in a short time and not creating a brand out of your product
When your company is small and you do not have much finance and other resources to engage into long term investment.
When you want to engage directly with the customers through telemarketing, telesales, cold calling, online marketing, advertisement in major newspapers and magazines.
This strategy is suitable for product category where there is low brand loyalty, low investment and the purchasing done is not planned and is totally impulsive. Examples are bottled water, cold drinks, FMCG, etc. "Push strategy is suited for mass goods, white goods, and apparel, etc" avers Sharma.
It is also suitable for products that have many substitutes.
When should you use a pull strategy?
It is used especially when you want to turn your product into a brand and gain publicity and customer attention.
When you want to popularise your brand and you want to create a unique position and identity of it in the market.
By using this strategy, you can have the benefit of clubbing a not-so-famous product with your best selling brand to increase the sales of the former.
Pull strategy is most suited for goods that require proper investment and planning. Examples are car, and refrigerator, etc. "Our services cater to a niche segment and so it is the pull strategy that we follow. We try to generate excitement among the target audience so that the customers are pulled towards our services" adds Sharma.
Long term growth and diversification are what this strategy leads to.
Please add your comment
Best Mens Nike Free Run +2 Yellow Gray Running In Good Price For Shopping King.
May 13, 2015 at 2:10 pm
Wow that was strange. I just wrote an incredibly long comment but after I clicked submit my comment didn\'t show up. Grrrr... well I\'m not writing all that over again. Anyway, just wanted to say fantastic blog!
Reply |
Air Max LTD 1 Black Red Mens For Guys Cut Price With 2012 New Style
March 20, 2015 at 8:52 am
Hello! I just wanted to ask if you ever have any trouble with hackers? My last blog (wordpress) was hacked and I ended up losing several weeks of hard work due to no data backup. Do you have any methods to protect against hackers?
Reply |
Our Nike Air Max 90 Black Running For Women And Men Low Priced
March 16, 2015 at 7:07 am
Wow that was odd. I just wrote an really long comment but after I clicked submit my comment didn\'t show up. Grrrr... well I\'m not writing all that over again. Anyhow, just wanted to say great blog!
Reply |