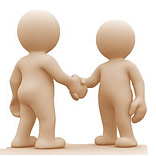 Business Processes Outsourcing is the process of hiring another company to handle business activities for you. It is increasingly becoming common for companies to outsource financial and administration (F&A) processes, human resources (HR) functions, call center and customer service activities, accounting and payroll etc. Amongst all organizational functions, Human Resources Business Process Outsourcing (HR BPO) continues to be a major component of the overall worldwide BPO market. Going by the current trend, companies are leveraging HR- BPOs as a means to achieve transformation in HR functions and processes.
Here are some convincing reasons why you would decide to outsource your entire human resources function or a single process out of the entire gamut of HR activities.
When a business reaches scale, especially when the number of employees exceeds 50, it becomes increasingly difficult to focus on day to day HR functions. Handling paper work like Provident Fund, ESIC, Mediclaim etc. needs time and additional resources. Often startup companies have to hire expensive people to understand paper complexities. Outsourcing a few HR activities is a viable solution.
Often companies are not able to focus on the quality of recruitment made for important positions. This can be either in the absence of expertise in hiring or the lack of time dedicated for the hiring process. Further subscribing to web portals for recruitments involves added cost which the company might not be ready to bear. Further if the company decides to go in for hiring at campuses, guidance is required as to how to go though the procedure.
Opportunity of maintaining employee data and implementation of standardized HR processes across the organization becomes possible with outsourcing. Access to better technology and processes – some of the service providers' now-a-days combine IT+BPO
Increasing challenges and costs for employee services like Benefits Administration. Outsourcing benefits administration is, on average, less expensive than in-house administration.
Allow focus on strategy: Outsourcing of administrative work enables HR personnel to focus on strategic and value-adding activities by effectively managing the workforce – right from Recruitment to Training & Development to Performance Management.
Attractive business and pricing models – As the industry is growing, service providers as well as large ERP players offer attractive and viable options like Per-employee-Per-Month (PEPM) pricing and platform-based solutions.
Startup companies suffer from high attrition rate as they are not able to meet employee expectations. Often the root cause of employees leaving the company is lack of a platform to discuss grievances.
According to a professional at Calibre Point Business Solutions, 'There are some companies which outsource their entire HR function, while there are others who chose to outsource a single HR process at a time.' Mostly startups and small and medium companies prefer to outsource single process at a time. Small companies can outsource its recruitments to begin with, followed by other processes such as payroll, Performance Management, Compensation, Learning and Development, etc. Among all HR process Payroll is the most outsourced function and continues to occupy the top share of the outsourcing pie. Other commonly outsourced functions are Employee Record Maintenance and Workforce Administration, Employee Benefits Administration, HR Helpdesk, Recruitment Process Outsourcing (RPO), etc.