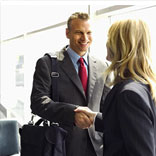 "Sales people are the actual revenue generators in any organization, boosting the market share of the company" says Sushila Negi, Senior Manager, Sales, at Franchise India. No matter how good the product is or how competent the pricing strategy is, it's all futile if the sales strategy fails. Eventually it is the sales team that can make or break the sales efforts. Thus it is important to conduct the hiring process meticulously. Here is what you should check out for while conducting interviews for your sales team.
Speaking right things at the right time. The way of speaking should be polite. The voice tone not being too soft or too loud. The salesperson must put across the point to the customer straight instead of wandering about or dragging the conversation too long. While interviewing you can identify this trait by observing whether the interviewee is answering your questions in a precise manner with a gentle tone of voice.
Acute listening skills are a prerequisite. One can be effective in sales if the customer needs are identified, and for that, good listening is the key. Listening and speaking go hand in hand. If you aren't listening to what the customer is asking, you definitely cannot give a satisfactory reply. So if the interviewee snaps your questions in between, this indicates that he lacks patience and is certainly not a good listener.
Should know the product inside out. A sales person is the direct link between the company and its customers. Being the sole representative of the company to the customers, one must have perfect knowledge of the company and the product that he is selling. Hence you need to check whether the interviewee has come well prepared with adequate knowledge about the company and t he product. HE should also have in depth knowledge of the industry he is operating in.
Customers judge books by their covers. A good sales person should be able to strike a perfect first impression. So you must see to it that he has been suitably dressed so as create a good first impression on you. His professional dressing sense, mannerisms and the way he carries himself also reflect his seriousness for the job.
Flair for money-making. 'Its more of a personal interest that drives a person to take up sales as a career choice rather than being imposed with it,' says Sushila. The interviewee should be strongly motivated to work towards fulfillment of a goal. All sales people are supposed to work on a target based schedule, hence a high level of motivation is required to achieve the same. Also as the job profile is incentive based, so he should have a flair for making money.