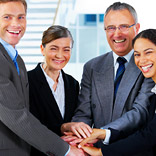 Employees are the spokes that churn the wheels of a business for its smooth running and growth. Lately, we are witnessing a rush of advancements, be it in business practice or technology. The fast changing scenario needs to be matched with corresponding skills and expertise for which employers spend a lot of time and money to prepare the employees for future so that they can take the reins of the business confidently. But what happens when the same are lured by better opportunities and they leave the company, dissipating all efforts? The cycle starts again, of hiring, training and absorption and yet again when the employees realise that they have learnt enough, they start flapping their wings for a new flight.
Obviously, management wouldn't like to lose the very goose they trained to lay golden eggs and would engage their last tooth in trying to hold them back. And  as an extra effort, even plan a series of interviews with HR just to make sure he has a genuine reason to resign and that no amount of cajoling will keep him back.
That time in clock, when an employee bids goodbye is very sensitive and emotional and employers try until the last minute to change his mind, which in most cases, he doesn't. Here, a series of reasons can be assigned to his displeasure: His grievances were not heard, he was not given a raise for a long time, he received unfair treatment etc.
It is a know fact that there is a cost utilisation gain through experienced employees and as such employers wish they could retain them for a long time because an employee, who has worked on a process for a long time gains experience, hence, is able to provide value addition.
But how do you know, what is going on in each employees mind, who are high performers and whose loss would weigh heavy to the company etc. To ensure the above, a company's tracking system has to be in place so that you can;
Track retention and attrition cost
Replacement cost often amount to 2.5 times the salary of the individual you are replacing. Therefore, it is equally important to measure retention cost along with attrition. This can be done by creating a tracking system for retention age for different categories of employees like 0-3 months, 3-6 months etc and then finding reasons for different age(tenure) and their solutions to take actions. Attrition cost is another area of concern.
Another way to save on cost is to recruit interns atleast by 40 per cent as directly hired from campus they save on spiraling cost. This way the cost of training is also borne by them while on probation. By studying trends of such recruits (direct from campus), you will know how long they generally stay in the first company. And according to that allocate the CTC. This way, you will not go wrong and use their aggression till the time you want or till it is time for another campus round. They contribute immensely by way of youthful energy, freshness, attitude, fast learning aptitude and friendliness. 
Track internal JP versus outside hiring
Also, by tracking the proportion of internal promotions to external hires at every level with the aim to advertise all available positions internally before going that extra mile in search of external talents will ensure fairness to employees.
Every business has a system to control the number of employees that can report into the next level and this is called the span of control. Also track the tenure of reporting relationship. Through tracking of management cadre to see growth of each individual.
An early detection system to keep track of the retention age among employees' shows up employees that are likely to leave the organisation due to pre decided factors. Now a days, bonus, loyalty bonus, appreciation, promotion are only a few ways to keep the employee hooked to your company. Find out practices followed by other companies where the employees are always beaming with happiness and inculcate that in your environment.
Track focus area (high performers, high potential)
Spot the high performers who constantly make things cheaper, better and different. If a company addresses the needs of high performers and high potentials, the better it is for it.
Mohammad Javed from the famous Khan Chacha Restaurant, Delhi, shares, " It is of utmost important to treat your employees fairly and this is possible only when we are appreciating them from time to time. Also, we must listen to their grievances and try to solve them. As such, we do not try to demoralise the leaving employee but we do try to negotiate to change their minds. Many a times, our employees have rejoined because they do not get the same comforts and satisfaction elsewhere because we ensure that they are looked after properly. For their security, we have PF and ESI and other facilities like any other company. ".
As we see from the above, that in most cases, money is the most important reason for a job switch, at the same time, we have also seen why and where the management can go wrong?  And I have also tried to offer some useful solution to the employers so that they could identify the wheat from the chaff and value them so that they do not get carried away by the promise of better opportunities somewhere else.