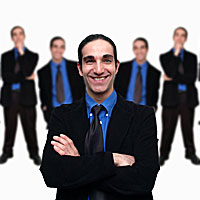 In past few years, we have seen the major changes in the work culture of different organisations in India. Now companies are more focused on their employees' needs, particularly in SMEs. They are seeking high growth without worrying about the hard and fast rules following at workplace and are ready to sustain their employees by adopting different policies.
Drish Infotech Limited (Drish), a global IT services provider that delivers affordable business and technology solutions through outsourcing is a high-growth oriented firm with good turnover is able to sustain more than 60 per cent of its employees in past 10 years. Harshvir Singh, Managing Director, Drish, shares, "When an entrepreneur wants to grow, he needs strong team members and to sustain them positivity at workplace is very important." He explains, "Flexibility is a recent trend followed by maximum organisations, especially by those who provides their services globally, whereas the other factors include, best HR practices, work from home, fun activities, etc; all these help to keep entrepreneurs and their team member close to each other or binds them emotionally with their organisation."
Sunil Jain, AGM, HR, Su-Kam Power Systems Limited, says, "When there is a trust and happiness at the workplace, the employees work towards the benefit of the organisation. A positive workplace culture leads to increased productivity, better employee morale and the ability to keep skilled workers.
Meaning of positivity at workplace
"In any organisation if all employees come together for working towards the benefit of the whole organisation, this in turn in the benefit of each one," says Sandeep Arya, MD, Amtrak Info Systems Ltd. As an entrepreneur, by promoting positivity at workplace Arya's retain many employees at his company and has been seen notable tractions in business. It is all set to carve a niche for itself in India's tablet industry by introducing My Buddy - a tablet that offers the functionality of a premium tab at a price that is far more affordable. According to Raj Sharma, MD, Best property Deals, "In small enterprises cash flow is common problem and one can retain his employees by creating positive culture. All team members from top to bottom feel comfortable in talking to each other both within the workplace and outside." Sharma spend over 20+ years in Europe and starts his entrepreneurial journey by launching Best Property Deals with a team of 10 people.
However, Ameera Shah, MD & CEO, Metropolis Healthcare Ltd, has defined positive work culture differently. She says, "Taking situations positively in the most difficult circumstances is a positive work culture. It could be anything like handling an aggrieved consumer call to taking up ownership of a project that seems next to impossible. For some, a positive work culture could simply mean having basic amenities for others it could mean having challenging projects at hand. This could also be closely related to people's experiences with their earlier organisations, which would be variable." Pancham Prashar, Co-founder, CueBlocks Technologies Pvt Ltd, summarises, "In positive culture, people come to the office and leave the office with a smile."
Importance for SMEs
A positive work culture not only important for physical and mental health of employees, but also important for the growth of any company whether it is a start-up, MSME or SME. When an employee feels better at work, the more likely he will take interest in work and be loyal to company. "It engenders both direct and indirect advantages related to overall organisational performance. Shared vision and values instilled in the culture correlates with a competitive advantage and effective performance among employees and an alignment of company resources with the organisation's goals. This alignment of employees and organisational culture creates high level of job satisfaction and overall performance and efficiency," says Rohit Chaudhary, CEO & Founder, eTechies.in. He started eTechies in 2010, and today it has headcount of 325+ employees on pan India. 
Sharma says, "A great product with a lousy team will not succeed, whereas a lousy product with a good team does. So maintaining a positive culture in your workplace is more important than perhaps any other aspect for SMEs.
Factors Contributes to Set Positive Culture
It is a big question how to make an enjoyable workplace for employees. Read on the following factors that help to create a positive work culture at any organisation.
Flexibility: Balancing flexibility with growth could prove to be a real challenge for a leader. Shah adds, "But when any organisation offers such choice to its employees it is the biggest business sustenance factor."
Involvement and motivation: Involvement and motivation of employees in any company helps enhancing the business. Sharma adds, "When employees feel much greater responsibility in their task they will come up with solutions."
Communication: An open communication channel among employees and high level management helps to make healthy work culture. Communicate with them to learn if they are facing any problem.
Trust: Jain says, "Management should learn to trust their employees as it develop confidence in them. They should give them the necessary support and care and guide them on how to proceed with a particular work assignment."
Physical work conditions: "Physical working conditions are very crucial to a positive culture. When we shifted our premises to accommodate the growing business, I ensured to personally interact with employees to know about the things they would like to have at the new premises," says Shah.
Personal growth: The next key ingredient is when people experience personal growth along with the organisational growth. "I believe that an organisation grows when its people grow," says Jain.
Transparency & Fairness: Sharma says, "The obvious focus of fairness within organisation is related to compensation, perks and the incentives given on the performing job, and organisational hierarchy in position and status. Reaffirm that everyone would receive an equal opportunity to be recognised, and create an environment that promotions are handled fairly."
Performance analyses: A timely performance analysis process is followed that evaluates the achievements made, tasks completed, and failures of each employees. Jain says that this helps entrepreneurs to pick the deserved candidates for their achievements. The process of rewarding the employees is followed to appreciate and maintain their enthusiasm, so they keep up the good work.
Other Ways to Make Employees Happy
A simple appreciation and consideration could mean a lot for motivation of a hard working employee at any level. Chaudhary says, "We follow open door policy wherein employees have multiple channels to voice concern, grievance or give suggestions. We have forums including Speak Up, Write to CEO, Write to HR. This builds credibility and fairness in approach. We have performance based reward systems that are benched as per market. Rewards are an outcome of performance and potential and accordingly we have built our reward systems". Prashar adds, "We encourage this by maintaining a key focus on work-life balance, free gym memberships, healthy food options in the office etc."
HR Enforce Culture
 "It is the task of the human resource department to keep organising activities within the employees and management for establishing transparency and faith,"  says Rao. "Manpower is the biggest asset for any company and HR plays very crucial role to satisfy them. It is more so for software development companies, where the only input is professional manpower. This is possible if you have good work culture and employees are self driven and goal oriented," says Sanjeev Kumar, HR Manager, Drish. He further says, "We follow ethics and are transparent in our approach. We celebrate every employee's birthday with recreational activities and sets plans for indoor as well as outdoor sports activities like carom, cricket, table tennis and badminton etc."