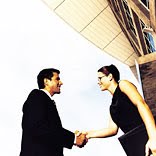 Right hire is a challenge but if you follow the guidelines, it becomes fun. Here are a few ways to hire right.
First make a list of :
The jobs to be done and what skills will complement those vacancies. For example, if you need a spokesperson for the company, you need a PR specialist for that vacancy.
Now make a list of all skills that you are looking for in that person. For example: Good English, go getter personality, good communication skills (Both in writing and speaking). Or if you would like that person to take multiple responsibility. Here, be very genuine with your search. See if one person will be able to do all that or you will need more than one person for that.
Determine the salary you are willing to pay by comparing Industry standard pay for that particular position.
Give ads in proper media; ask for referrals from within the organization etc.
Make detailed content in job description. Write the skills accurately, define other qualities that you are looking for to avoid unwanted enquiries. You may take help from employment services also.
Interview carefully. Focus on all information in the bio data. When considering for an important position, consider interviewing more than once or by more people for a common consensus.
Check references, employment history, credit history etc.
Make an offer letter specifying the terms and conditions, salary and other important details like benefits, vacations, leave etc.
It is always healthy to have an internal job posting to give a chance to your employees for promotion in case there is a leeway. This creates an environment of a consistent healthy competition and increased efficiency to vie for IJPs. Also avoid offending questions like one's race, age, disability or personal problems, but if you have to, ask in a subtle way which is not direct and doesn't hurt the candidate. Be direct about the budget that you can afford. For a wider choice, job fairs are a good option where you can meet the prospects directly and then call them for an interview later. Well, whatever way you choose, right hire will go a long way and pay rich dividends.
According to Phaninder Sama,CEO, redBus.in, "I think cultural fit is very important. In my mind, this is uncompromizable. If the person does't know the skill set, it's still fine. He may learn. But if there's no cultural fit, both the employer and the employee will suffer".