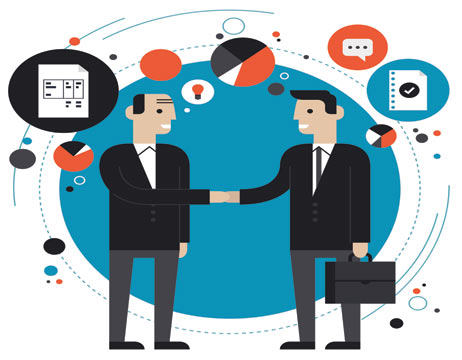 India Inc. is largely composed of family businesses – most of which are in their second or third generation – ranging from large business houses to small- and medium-sized enterprises. However, the continuation of family businesses till the fourth generation is a daunting challenge with the survival rate as low as 4 per cent. A major cause of a shorter life span of family businesses is the lack of succession planning.
In a rapidly changing environment, families are not prepared for transition of leadership. No matter whether they are Ambani brothers or Bajaj cousins, failing to address the issue of 'passing the baton' to the next generation results in family feuds, splits and loss of enterprise value.
Is there any formula for successful succession planning in family businesses? From my research of over 150 Indian family businesses, I have identified three keys to a viable succession planning for the owner-families aspiring to continue their businesses across generations.
1) Start Early: Childhood impressions are the lifelong impressions. If your children are exposed to your business environment and a sense of pride for the family is cultivated in the young age, they will aspire to be a part of the business when grown up. Make them attend family's discussion on business issues, allow them to express their views on business matters, infuse values of respect, sharing and sacrifice through day-to-day incidents.
Succession planning is not about filling the position and changing ownership rights. It is about transferring family values and legacy, leading the organisation and taking it to the next level. As the business owner, to fulfil your desire of passing the business to the younger generation, develop their penchant for the business, raise their ambitions to lead the business, and motivate them to strive for excellence.
2) Build Capabilities: Traditionally in family businesses the eldest son in the family is made the successor, irrespective of his capabilities or interest. The modern scenario is quite different. Companies have to be extremely competitive in order to survive and thrive in global markets. Successors have to demonstrate their business acumen, adaptability and entrepreneurial spirit to perform and prosper.
A leader, not by birth but by meritocracy, is always respected by his people and the business community. Kumar Mangalam Birla and Anand Mahindra are the shining examples of excellent successors. Therefore it is essential to develop managerial talent and leadership skills of to-be-successors.
A well planned on-boarding and orientation program will help youngsters to build their competencies and learn to be professionals. Sensible families take help of outside experts in preparing orientation programmes and plan succession.
3) Align Family with Business Interests: Succession planning can become complex when family members have different visions for the business or ambiguity about the growth or confusion about the leadership transition.
To sustain and continue the business successfully, families have to align their varied interests and ambitions. As family and business are two dynamic systems, their objectives and agenda often clash impacting harmony in the family and growth of the business. In such circumstances, succession planning becomes dreadful.
The key to avoid such situations is to take wise steps beforehand. Developing a culture of family governance helps considerably. It means, families have to define the dos and don'ts for the business as well as the family.
Clarity on various issues like roles of family members in the business, sharing of profits, entry and exit in the business, and selection process for successors is brought about through family governance. With the help of specialists and external advisors, prudent families have been inculcating governance in their family culture and driving towards professionalisation of the business.
Succession planning can be a joyous ride or can be a nightmare for families in business depending on their consciousness and quality of preparation. A successor, groomed from a young age would be more involved and passionate about the business than a successor joining the business as a career option.
Family owned and managed businesses are now changing into a new avatar of family owned and professionally managed businesses. What can be a better option than to develop professional successors from the family itself?
The writer of this article is Dr Mita Dixit. She is the Partner & Family Business Advisor at Equations Management Consulting, Mumbai. The views expressed here are personal.