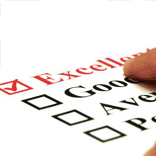 If you have been turned away by banks for being unworthy of credit, you are not the only one. In the absence of sufficient collateral security, most banks are wary of lending to small businesses. However a credit rating agency can help you tide over this problem to quite an extent. All you have to do is to approach a credit rating agency and get your business rated in terms of your financial credibility and strength. Chances are that banks and financial institutions may take you more seriously than before.    
What Does A Rating Agency Do?
Being credit worthy means having the ability to repay your loan in time.  So what rating agencies do is that they assess your company's credit worthiness and give you a rating which is widely accepted by banks and other financial institutions. According to Crisil SME Head, Yogesh Dixit, "Credit ratings serve as an identity for these companies and help in increasing banks and financial institution's confidence in their credit worthiness and building better relationships." Mr Bajalia, Executive Director, IDBI Bank says, "Credit Agencies have played a vital role as we welcome independent and reliable credit assessment. As credit agencies have done due diligence, therefore it lessens our work and fastens the entire loan granting process".
Top agencies like Crisil conduct an analysis on two dimensions- performance capability and financial strength along with their 360 degree analysis scheme which has four parameters- Management Competence, Industry Check, Financial Report and Business Strength (includes product and marketing plans). These agencies act as a reliable link between the enterprise and its funder (banks or financial institutions). India's best rating agencies include CRISIL, Dun & Bradstreet, FITCH, ICRA, ONICRA and SME Rating Agency of India Ltd (SMERA).
Benefits of Getting Rated:
Faster and easier availability of loans: Banks appreciate the independent and credible analysis done during the rating exercise. More than 26 banks have entered into a formal agreement with CRISIL SME Ratings under which they extend favourable terms and conditions to CRISIL rated units, including lower rates of interest
Increased credibility with bankers, customers and business associates: An SME rating from agency like CRISIL increases the credibility of the rated unit in domestic and international markets by providing the bank, customers and business associates with credible information about the company. This increases their confidence in the unit and helps in increasing business and building better relationships
Increased publicity: CRISIL SME Ratings are listed on CRISIL's website and on CRISIL's monthly publication, the CRISIL SME Connect. This serves as a good source of publicity for the rated entity and further enhances the credibility of the unit.
How Much Does It Cost You
The rating fee charged by the agency depends upon your company's turnover. Being heavily subsidized by the government, upto 75%, the cost of rating has come down substantially. You may have to shell out Rs 25,000 to Rs. 40, 000 depending on your turnover.