Need to become Credit-Savvy
Though it is not truly a survivor's tool, it definitely helps you stay on board
BY Entrepreneur | Mar 10, 2011 comments ( 0 ) |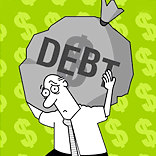 Offering trade credit is not optional, it is mandatory especially when you are faced with completion in a highly competitive market. Though it is not truly a survivor's tool, it definitely helps you stay on board as long as you can live with either the credit crunch straining your financial systems or eating away the crucial chunk from your profits that couldn't accrue.
Moreover granting credit also has a cost attached to it which can be termed as either the actual cost of borrowing, or the opportunity cost of lending that's lost, as that money unpaid by the client could be put to other uses. Adding to the cost list there are the administrative costs of creating statements, following up with clients and collecting the receivables.
Pending receivables' after-effect
The MSMED Act stipulates that MSMEs should be paid within a period of 45 days. But on average, SMEs with large corporate customers carry receivables valued at 80days of sales on their balance sheet. 15% of such SMEs carry receivables of more than 120 days. This has a significant impact on the financial position of SME, strains their balance sheets significantly and vitiates financial ratios. CRISIL's recent study on credit worthiness and receivable levels of SMEs concludes that SMEs could improve their liquidity materially and enhance profits by 15% if they received payments on a timely basis.
Smaller businesses worry
A bigger worry for the SME sector is the trend observed by CRISIL between scale of operations and receivable position. It draws upon a simple correlation- smaller the enterprise, lower the turnover, weaker its receivables position tends to be, and thus more vulnerable it is. The fact that smaller enterprises constitute a sizable share of India's SME space and are most susceptible to liquidity pressures, makes it imperative that they receive their payments on a timely basis. For around 40% SMEs with turnover up to Rs 10 million and 43% with turnover between Rs 10 million and Rs 50 million have receivables of 90 days and more.
Corrective actions
What could be the solution? For the one who tries to be stringent with the regulations only looses business to those who can sustain the credit crunch more sportingly- giving away their profits for more sales. The CRISIL report also comes up with a three pronged plan of action to deal with this situation. First, industry associations and other trade bodies will need to create much greater awareness among SMEs about provision of the MSMED act, particularly those related to customer-payment-related issues, and the redressal mechanisms available to SMEs. Secondly SMEs need to understand the costs of delayed receivables and its impact on their profitability, and factor this into their selling price. Lastly, increased stringency in implementation of the provisions of the MSMED Act could help bring about a major change in timely payments to SMEs.
Internal policy building
According to Salim Yahoo, Senior Manager, CRISIL SME Rating, "The key metric in managing accounts receivable is how long, on average, it takes your customers to pay their bills. In general, be concerned if your average collection period is a third longer than the period established in your credit terms (40 days for a 30-day period)." Another quickie that can work well to get a quick estimate of the average collection period (also called days sales outstanding) can be obtained by dividing outstanding accounts receivable by average daily credit sales. This does not account for fluctuations over time, and there are more precise (and complicated) calculations for average collection period, but it is a good rule of thumb!
(With statistical inputs from a recent study conducted by CRISIL)