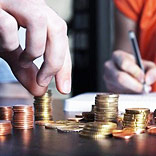 For entrepreneurs, budgeting is usually the least-loved business management tool but when it comes to handling crisis it's the most effective one. When the economy is not doing good or the sales are going down we look back at our budget to prepare ourselves for the worst and identify possible course corrections. Usually, it refers to watching your expenses so budgeting is about process, not just numbers.      
Here are some tips to help you develop a good budget:
BUDGETS ARE NEVER PERFECT
Budgeting means anticipating the future trend and it doesn't have to be an accurate guess to be vital to management. You develop a good budget for the beginning of the year and then carefully manage changes i.e. budget plan vs. actual budget throughout the year based on the developments happening.
REVIEW PROCESS IS ABSOLUTELY CRITICAL
It isn't the budget itself that makes the budgeting worthwhile. It's the review that comes regularly, focusing on what's different from the budget and comparing budgeted expenses to actual expenses. According to Rahul Jain, CEO, Business Coaching India, "Budgeting puts the money where strategy's mouth is. I call it strategic alignment i.e. spending money on strategic priorities."
REVIEW SCHEDULE
Never finish a budget without setting a schedule for budget review. It comprises of when, where and who will attend the meeting. As the company grows it becomes all the more important to create accountability. So, bringing your people together to work on the budget builds an automatic peer process, pride in the performers and incentive for those who can do better. Budget review is thereby, a powerful management tool.
KEEP THE ASSUMPTIONS VISIBLE
The first agenda item in the review meeting is to look at the assumptions. What's changed? How does that affect our budget? We live in constant change, so good budgeting keeps the change where we can see it and manage it. Sticking to a budget isn't necessarily the ideal way. Managing a budget, by seeing how assumptions have changed and correcting the course, is better.
KEEP IT SIMPLE
Try to build a budget where the information that comes out matches the people responsible as much as possible. Keep it summarised so you can see it well because if you divide the information into lots of detailed categories, there is a chance of getting out of the track and the management needs to see a clear holistic picture. "I worked with a company that intended to emphasise customer service but spent nothing on employee training, more employees or better-quality items to sell, says Rahul Jain."
MATCH YOUR ACCOUNTING REPORTS TO KEY MANAGEMENT ITEMS
It's called chart of accounts, which means setting up categories that match control and responsibility, and the information you can manage later on. Accounting is usually a very detailed format, but budgeting and budget management need summaries of categories and more aggregation. With the budgeting process, however, you can turn to the numbers and see how your spending breaks down into categories. Compare that to your original budget and make the corrections based on regular progress.
CONSISTENCY MATTERS
In the initial years, we keep switching categories in the budget, trying to get better visibility. In those initial years we typically have less information because we can't go back to the past but when we start sticking to our categories and maintain consistency over the time, it becomes easier to see trends and do analysis.
Good budgeting brings your words and your numbers together, which are essential for you to control and steer your company towards the future you want. So, don't forget that budgeting is one of the keys to management.