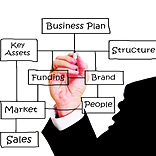 You may be having an excellent idea but are unable to get the right people to fund and support your business venture. Don't worry! The solution to this is a business plan, which will not only help you to present an organised view about your venture but will also make your investors take you more seriously.
What is a Business Plan?
A business plan is simply a written document, which states your business goals or objectives and outlays the process in which you intend to achieve it. It is developed in the form of a flow chart that depicts step by step plans and ways to execute it. A great business plan is used by investment-seeking entrepreneurs to convey their vision in an effective way to their potential investors, lenders, bankers, or venture capitalists. Apart from start-ups it may be used by established firms for new businesses, with the objective of expansion/growth, or simply to manage their companies better.
Key Elements:
Innovative Idea/Concept: Your unique business idea is something that will make you stand apart as an entrepreneur and the first thing to impress the investors. While conceptualising an idea you need to do prior research on the industry and various opportunities, and verify if the product or service has a substantial market and the ups and downs of the venture. You need to be sure that you have a sound business concept as this will set the ball rolling for you and the investor. Dawn Stallwood, a renowned angel investor says, "The first thing which we look for in a business plan is a novel idea, which sounds exciting and has a market for it."
Financial Viability: Having a great business idea is just the first step. To make it feasible you need to have a sound financial plan because cash is the lifeblood of any business. To effectively manage your finance you need to know how much start-up capital and operating capital is required. Your financial section should have clear details of your sources of funding, generally comprising loan applications, projections of your cash flow, profit-loss, balance sheets and break-even analysis. Stallwood says, "For start-ups if the business idea clicks finance can be arranged but for established firms who want to expand their credit worthiness is vital."
Right People: The people who are running the business are important in defining the success of the company. Every investor looks for a dedicated and focused management team that possesses skills, which complement each other for running the business efficiently. Therefore, have a detailed description of the organisational structure, key management personnel with their primary duties, along with the company's philosophy. Kiran Nandkarni, a venture capitalist says, "A motivated team which shares your vision and passion is key to the success of the business." T R Bajalia, Executive Director, IDBI Bank, says, "While analysing a business plan we assess promoters' profiles, financial feasibility and their credit worthiness."

Plan B: There is rarely any business plan, which is completely insulated from any external problems or does not have any probable loopholes. It is helpful if you stick to short-term objectives rather than long-term ones and modify them according to your business-progress. Do not be too optimistic in predicting your capital requirements, sales targets and deadlines. Considering that there can be setbacks or goof ups at any stage, you need to be ready with an alternative strategy to deal with the problem, to ensure the continuity of the business.

Adaptability: Change is the only permanent thing so you need to be flexible and realistic in accepting the changing business environment, else you will get lost amidst fierce competition. For this you need to keep tabs on the market, your customers' requirements and your competitor's activities. Nandkarni says, "To be able to sustain and lead, one needs to be adaptive to frequently changing scenarios as people today have lots of options and demands."