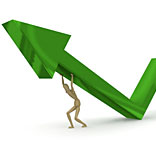 A small business, steering ahead at rocketing speed is a kin to a reckless driver driving a small car loaded with passengers. For he is driving along a curved hill road at top speed; here the risk of speed is higher than the anticipated gain of reaching the peak before others. So it is vital for a business man to predetermine his path and speed in the business plan- much before the actual action begins. This is in lieu to avoid, the avoidable and much anticipated downhill smash (at a later stage in the business lifecycle).
Most entrepreneurs, who have tasted quick success, become habituated to seeing the situations and options through tinted glasses- which invariably shields them from the stark realities of the risks that stand ahead of them in managing and sustaining a consistent business operation.
But, the ultimate fall out can still be averted, by making note of the sign boards that will appear, if you are threading too close to the dangerous dead end on the road:
Unhappy customers
Unhappy employees
Straining systems and controls (overloaded support systems)
Entrepreneurial burnout (fatigue building on)
The primary lesson for those of us who worship growth is that, sometimes it is necessary to speed up by slowing down. An attitudinal adjustment is the key that needs to be turned on to ensure a healthy and sustainable growth path. And for this growth must come from all corners, healthy growth occurs when sales and infrastructure grow at the same pace. Here is a shot key to what all must be looked into for creating a manageable, sustainable and a long run growth track:
Control sales – You should not venture into diversifying your sales force, territory or create new products until you have an infrastructural backbone strong enough to support, them till they bear genuine fruits. The infrastructure here comprises of office space as well as finances to sustain it till it reaches a profitable stage.
Balance earnings – The earnings should be in line with the sales growth, this is essential to maintain the cash flow, because growing receivables and expanding inventory can bring down an escalating business.
Systems and controls – With the growing scale of business operations, the support and control systems of the company like- paperwork, inventory management, financial accounting, etc. must be reworked and redesigned to take care of the increasing load.
Agile team members– The people (most important asset), must grow at the same pace as the sales, this is crucial to maintain customer satisfaction. This can be brought about by extensive training and motivational programs. Thus keeping the moral high at all times.
And with these balancing tools at hand you can lead your company through, the lows and highs of the business life cycles, by constantly recreating and re-inventing a holistic growth strategy. Through this the company gears itself with options whilst it is enjoying a medium paced uphill ride.