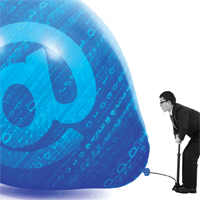 The Indian e-commerce industry is still at its nascent stage, accounting for less than 1 per cent of the country's mostly unorganised retail market. It continues to lag far behind developed markets like China and the US. Investors are pumping huge amount in yet-to-be profitable e-commerce firms and global financiers are lining up to grab their share in India's fledgling online retail industry. But how far such fundings justify these companies' soaring valuations is yet to be answered.
India's e-commerce industry was worth $16 billion in 2013 and is expected to touch $56-billion mark by 2023, according to the ASSOCHAM survey. VCs and PE players, who dominantly lead the e-commerce pack, have heavily poured in over $1.6 billion across 24 deals so far this year, compared with $553 million last year across 36 deals, according to research firm Venture Intelligence.
The poster boy of Indian e-commerce industry, Flipkart, has secured over $1.7 billion of fund till date, and Snapdeal has garnered over $330 million fund from investors so far. Such huge round of funding has skyrocketed the valuations of e-commerce giants in India despite the fact that these companies are in losses. However, it seems that investors are not much concerned about the profitability clause right now and view investments in e-commerce companies as a long term strategic decision. Experts believe that profits for these e-commerce firms can come in later as the prime focus right now is on customer acquisition.
"Like all growth companies, e-commerce firms have to invest in several areas. Getting customers on board initially is very critical to achieve significant scale and revenue to turn profitable. To achieve scalability, e-commerce players have to invest in supply chain, technology, marketing and customer acquisition. Hence, funding is required to acquire more and more customers and build logistics capabilities to create differentiation in order to procure new products going forward," says Anantha Rao, Chairman, SkillPro, and Managing Director, Focus Ventures.
Factors Fuelling Valuations
With 25 million online buyers this year, the figure is expected to increase to over 100 million by 2020. In the same period, the average basket size of online shopping transactions is expected to grow at 25 per cent compounded average growth rate, resulting in the industry growth of more than 60 per cent.
Given such encouraging numbers, investors are banking on the fact that future growth will come from both increased Internet penetration and improvement in related infrastructure like payment and delivery systems. Moreover, strong investments in this sector for upgrading technology, hiring manpower, increasing products and customer acquisitions will ultimately help grow the concept of shopping online.
"The increasing investors' interests and factors affecting valuation is a function of various things. First, with the Internet and mobile user base rapidly increasing in Tier 2 and 3 cities as well, prompting a significant behavioural change among Indian consumers. Second, we all know that the Indian retail market is very big and will continue to grow in the future as well; but for window shopping products, the profitability is an issue and the game is about getting more and more traction in the market. It's a market share game. Thus, leading players in an industry acquire other firms (like Flipkart recently bought Myntra) so that more and more customers can buy from them," explains Manish Singhal, Founder, LetsVenture.
Since e-commerce companies are solving the unmet needs at the fundamental level, the valuations of these companies reflect the market opportunity, which is high because they have just tapped a very small percentage of the total e-tailing market in India. "Fundamentally, value, convenience and choice are three main factors contributing towards the valuations of these companies," says Ashvin Vellody, Partner-IT Advisory, KPMG India.
The Funding-Valuation Game
Industry experts and investors echo the fact that investments going towards acquiring new customers and building infrastructure justify the soaring valuations of these e-commerce companies. Their views further reflect that if a lifetime value of a customer is taken into account, it will be wrong to consider marketing as an expense. It is rather an investment to acquire a customer throughout the life cycle.
"The valuation game is a relative game. It does not depend on profitability right away. Valuation is led by future growth potential and estimated earnings. To some extent, valuation depends on key factors like the differentiation factor (how they are going to compete with new as well as the existing players); what profitability they can expect within two-three years; and other revenue streams for the company (are they expecting certain higher margin on their own products? Or are they able to create higher margin with an inventory model?)," explains Rao.
Experts believe that valuation is a demand and supply game, and there is no real justification for it. Even high valuations are justified in the eyes of investors if they think they can make money out of their investments.
The Future Trends
Experts believe that e-commerce is just taking off in India, and it is here to stay for long, but consolidation will definitely happen. "The industry in India consisting of various models (like Flipkart, Amazon) has already seen consolidation. The next wave of opportunities will arise in certain vertically focused marketplaces and online brands," says Singhal.
He further explains that around three big players in each category will survive in the market, and companies like FabFurnish, BabyCry and Satvik, focusing on niche areas in the e-commerce space or acting as an e-commerce enabler like price comparison websites and logistics, will certainly witness huge growth with e-commerce becoming big.
"There's a lot of opportunity for logistics players also and significant market sizing will happen to the product producers. In terms of the supply chain, product producers and consumers will get optimised to a large extent," says Rao.
Moreover, the growth will be driven by women-centric categories such as fashion, footwear and accessories with mobile emerging as the preferred medium for online transactions. Tier-2 and 3 cities will contribute significantly to growth. The new breed of start-ups that emerge will need to differentiate themselves from big players.