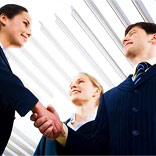 Points to be kept in mind while selecting a consultant
One thing which keeps the focus of most entrepreneurs (of small and medium businesses) away from the core issues of business is management services. Be it payroll processing, recruitment, legal aspects, taxes etc., management services consume so much of time of the owner of small and medium businesses that the priority list goes hay wire.
Imagine if such services are taken care of by someone else how much time you will be left with for your business planning and strategising. You can save yourself from the day to day hassles by outsourcing some of your company's management services to consultancies.
Outsourcing is beneficial for both the organisations that use the outsourcing services as well as the consultancies that provide the service to the companies.  Benefits will be many.
Advantages for SMEs
Mr. Sushil Kumar Mittal, CEO, Innovo Thinking says, "SME companies generally have resource constraints in comparison to their growth ambitions. Outsourcing of management services such as arranging cost effective funds (Debts & Private Equity) mobilization is quite essential for them. Due to high GDP growth in our country, talent resources are directed towards large established companies and brand leaving a wide gap for SMEs. Most of the SMES neither can afford nor have full time requirement of experienced qualified professional."
In addition to this, you have another advantage – quality service. Since these consultancies specialize in their respective services and excel in their area of expertise, you get quality services with least supervision.
Assessing readiness for outsourcing such services
According to Mr Mittal, when an SME finds that they neither have in house expertise nor are in a position to attract full time expertise they are ready to outsource some of their services. This resource constraint can either hamper their growth or their competitiveness.
Key steps to follow before you outsource
Develop your medium term business plan – Unless you have a plan for your growth, you will not be able to understand your needs or choose the right consultancy
Evaluate the need of resources for executing the desired plan – After you have a plan, you will know what are the resources required to execute them
Assess resource constraints – Whether you have those resources at your disposal or not is the next important step. This will also help you in assessing the competitiveness of the consultancy to which you are planning to outsource
Plan to outsource the professional experts which you neither have in house nor in a position to attract right talent in those competencies
Search for required professionals – Now that you know what are your plans and what do you want to outsource in order to achieve those plans, start your hunt for the right professional who will help you.
Some Tips
Here is a check list which will help you in selecting the right professional:
Check the credentials with the existing clients of Consultants to whom you are planning to outsource
You should also check that whether the area of expertise of the consultant is in line with your needs as an SME
Strengths and background of leader of consulting organization and their team members is also an important point that you should keep in mind