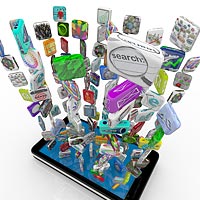 Has it ever occurred to you as to how young kids look at the world as it comes on their plate? Do you realise that their world is way ahead or distanced from the use of common compulsory things that we used in our school days before they gradually passed out of focus?
A shrilly alarm clock waking us up from slumber, a wrist watch indicating us to hurry up, writing letters to convey our feelings, propositions or requests, listening to radio in the weekend afternoons to pass time, keeping calculators handy to solve complex arithmetic and the list can go on and on. What is common amongst these gadgets performing their exclusive tasks? Well, all of them have been replaced by the one small tool, the mobile phone, a home of applications.
So much so, young school goers have turned entrepreneurs when it comes to developing apps for mobile phones. When mobile applications first entered the Indian market, it was considered a niche area for the technology giants developed to make their operations simpler. Such a mindset has become a thing of the past.
Shravan and Sanjay Kumaran, studying in eighth and sixth standards respectively are perhaps one of the youngest app developers globally. Having fun with gaming, technology is a part of their daily pastime routine. Their company Go Dimensions already have three apps on the chart with 10,000 downloads across thirty countries to boast of. The bro duo dreams of designing the world's lightest tablet. Apps are now a play thing, something which hides new functionalities waiting to be discovered and is constantly on the evolution graph for better, newer versions.
The Indian app market is growing with the invention of new ideas and coming up of new-age entrepreneurs. It is estimated that the market is going to grow with fast pace in the coming time. It is a medium that has the highest innovation possibilities and is something people will not be able to ignore.
Current Market
The current MVAS (Mobile Value Added Services) market in India stands at over $4 billion and is likely to be doubled in the next three years. As far as the mobile apps are concerned, market researches prove that the nearly 100 million apps are downloaded by users in a month, and the number is increasing day by day with the adoption of smartphones. As per Gartner report, the Indian mobile apps market has now reached at around Rs 750 crore, and there will be a steady growth in downloads across various platforms, including Blackberry, iOS, Android and Nokia. Sunil Jasuja, CEO & MD, Levitate Mobile Technologies Pvt Ltd, says, "Like several countries worldwide, Indian enterprises have also realised the importance of mobile app solutions to further business mobility." A report published at the end of 2011 states that the enterprise mobile app development scenario of India will record a profit of more than $1 billion by the end of 2015. Ravi Sundararajan, Chief Revenue Officer, Gupshup, says, "India has about eight times more mobile subscribers than Internet users. However, 95 per cent of these mobile subscribers are still feature phone users that create apps entrepreneurs great opportunities to explore with targets both feature phone and smartphone users." With an increasing mobile app demand, the app download is going to reach $180 billion by 2015, and the industry is likely to reach $25 billion by 2015, predicts IDC. The penetration of mobile and Internet in India is on the rise, and there is a huge scope for mobile apps.
Need and Applicability
The key word for mobile apps is convenience. According to Jasuja, "Today an average smartphone user spends over 2.5 hours per day using their phones which includes communication, entertainment, chatting, using social networking and gaming. The next level of usage is moving towards convenience commerce such as booking tickets, travel, ordering products and services"
There are various factors that are driving this revolution. "Smartphones connected with the Internet have surpassed the number of home computers and this penetration continues to grow at a very rapid rate," says Jasuja. Mobile apps are not only entertaining users, but are also a key need for most SMEs in India. Sundararajan adds, "Today, most small businesses in India do not have websites. Also the sales force of these SMEs does not use laptops. So mobile apps, such as SMS sales reporting, SMS order tracking, group communication and conferencing, customer service and relationship management, become very important for successful small businesses in India
Opportunities to Explore
Narayan Babu is a Computer Science Engineer, and has been writing programs since his fifth grade. He started building Android apps even before the first Android phone (HTC Dream) was even launched. The first app he launched in the store was a side scrolling game called Tintumon. At the time there were less than 3000 apps on the Android Market place (right now there are 700,000), and it became one of the top 500 apps within no time. It went to have over 100,000 downloads, but eventually was pulled out from the Store since he wanted to focus on more serious stuff.
Since then, he has developed two major app based suites, Iris and Friday. Iris has over 5 million downloads and has served over 300 million answers through the system. It is a voice based assistant that can talk to you about any topic, do phone actions, look up a restaurant for you nearby etc. Friday on the other hand is like a personal life logging engine. It understands your activities automatically and records them down digitally. It can show you the pictures you took from your last trip to France or the call you missed while watching a movie last week. It knows you like your best friend and helps you with timely suggestions and notifications. There has been around 200,000 downloads for Friday and it can store over 200 million documents in the cloud. While iris is what brought us to fame and went on against siri, Friday is what we think would be the real future,"comments Narayan Babu, CEO, Dexetra SS Limited.
There are tremendous opportunities for entrepreneurs to make great products and take their share in Indian app market. Sunderrajan says, "Most entrepreneurs are targeting the music and sports category with apps that provide a richer user experience by focusing more on user permission and easy to navigate user interfaces."
30 yr old Prafulla Mathur, founder of Queppelin, has two life passions – music and technology which led him to combine the two and develop his first mobile music platform-Zephyr. Infact the name Queppelin is derived from two of his favourite rock bands Queen and Led Zeppelin. His first application Zephyr – The Indian Rock Music Hub was a mobile audio/video streaming and compression platform. This app received high returns and was showcased by Oracle Corp. U.S. at Mobile World Congress, Barcelona. This platform is now used to create music streaming apps for enterprises including Gaana.com, the largest provider of music streaming service in India owned by the Times of India Group. With Gaana mobile app users can browse through thousands of songs in hindi, english and other Indian languages, make playlists, save their favourites, listen to top twenty hindi songs and discover music based on a recommendation algorithm.
Almost all industries are looking at and launching mobile applications for their consumers in a wide variety of areas essentially to enhance the consumer experience and to increase their business. Rohith Bhat, Founder, MD and CEO of Robosoft Technologies has made a challenging task like home renovation a fun filled affair with Nerolac Color Style app. It helps you visualize the room when the room is completely painted. This app makes it easy for the home owner to take decisions when it comes to painting the room. Some of his other chartbuster applications are NDTV, Pepsi Now, Game Your Video.
In a highly competitive industry, app developers are now thinking out of the box. The newest trend in App Development is Freemium Apps, where the app is free to download, but offer additional features or add-free usage for a fee. Gandhi says, "Android in particular has a lot of these apps, and they have garnered a positive response from consumers."
To make browsing and uploading photos on Flickr engaging, Abhishek Kumar has developed FlickrUp for Symbian 3+/MeeGo devices (both paid & free). Its popularity can be well gauged by the 108216 downloads that it has received so far. This app and the ones that are focusing on a rich private and public communication experience are gaining in popularity.
The advent of smartphones and tablets has definitely given a new lease of life for an emerging entrepreneur. These devices act as silver lining for these young minds as they provide them a new tool for carrying out their businesses effectively.
Apps on Roll
A lot of apps in the app market are armed with innovative features that make the business process a smooth task. Twitter client has replaced news channel to a certain extent. One can get real-time updates from around the world without much delay. BookMyShow app prevents from waiting in queues to buy a movie ticket. Apps like Whatsapp, Blackberry Messenger, Wechat, etc are replacing traditional usage of SMS to some extent. Apps like PayTM prevents users from going to shop or looking for computers to get their mobile phone recharged. From logging into banks, or managing expenses, the use of apps is widespread. It is much more secure and personal.
We are also seeing mobile wallet apps (like Square, Google Wallet) replacing credit cards, in developing nations. Lately, we are seeing mobile apps coupled with hardware that help you do various tasks. Personal trackers like Nike FuelBand or Fitbit use a mobile app coupled with a physical wearable device to track your activity and health. The possibilities are endless.
Apart from replacing traditional tools, even recent innovations are increasingly getting replaced by mobile apps. Budding entrepreneurs can utilize the power of these apps and make their businesses stand tall. This change could be the one driving India towards an Entrepreneur based economy.