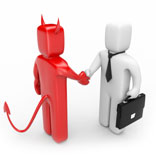 Big business or small business, the 'art of negotiation' is what you need to perfect in order to run your enterprise. There are several nuances you can learn to make yourself a better negotiator, yet the most important skill is to understand the body language of the other party. Reading into the gestures made during your presentation can help you gauge the real feelings, intentions and disapprovals of the person much beyond his words. You can thus use this skill to swiftly make slight modifications to your proposal in order to convince the other party and strike a win-win deal. Here are a few common gestures which you must read into while negotiating on a deal. 
Sticking out the lower lip
A person's subconscious expresses resistance or disagreement by gesturing through sticking out the lower lip. Lip protrusion indicates a confidant 'no' to your your suggestion. You should read into this gesture to gauge that you cannot carry forward with your moot proposal or that you would have to change your stance. 'Lip protrusion' is what we learnt in our childhood to express aversion to sharing toys or for saying 'no' to school etc. We get habituated to exercise the same gesture in disapproving circumstances, though a little more subtly as we grow up. 
Rubbing eyes
Have you observed your negotiating party rubbing their eyes? What should you read into this gesture? Well, this indicates that the other person doesn't believe or trust what you are saying. Though an eye rub can occur in a number of situations, yet in case of a negotiation going on, it indicates a lack of faith posed in the opposite party.
So when you observe 'eye rub' you should immediately tackle the situation. Perhaps you have not been able to convey your proposal in the right words, or you may have exaggerated some points unnecessarily, thus sounding untrue to the other party. So in this case instead of attempting to close the deal, ask the person, 'Do you agree with me?' or 'would you like to comment on this?' These questions will preserve your chances of making the deal.
Stroking the ears
While talking to your prospective client, you are often in a hurry to put across your own viewpoint. In an attempt to explain your side of the story, you tend to talk too much and inadvertently ignore the other person's willingness to interrupt and make a remark. Often people express their desire to put you on hold by slightly stroking their ears. So when you catch them displaying this gesture, this is your time to shut up and give them a chance to speak.
Salivating, licking lips, swallowing etc.
When we are evaluating a proposal, we exhibit gestures like stroking or rubbing your chin or temple. On the other hand we indicate our acceptance for something we highly desire by unconsciously using gestures like salivating. Some people might use very subtle gestures like stroking their chin, licking of lips or a simple swallow to indicate acceptance. So when you are probing whether the negotiating party has liked your proposal or not, you can watch out for any of these gestures. You can also check out if the proposal you have made has transformed from a want to a need by watching out for gestures such as putting something into the mouth, say a pen, eye glass etc.
Emotional Leaks
People are generally conscious about their expressions, however they cannot avoid making very subtle expressions or micro-expressions. We can call these gestures as emotional leaks which convey the real feelings which the person is not able to communicate verbally. You will have to observe very minutely as these micro –expressions might last only for a couple of seconds. Suppose you are in the midst of making a presentation and while you come to the most important point, the decision maker flashes a smile instantly. This indicates that you can raise your prices a little more. Alternatively if he appears shocked at any moment, it indicates that you need to bring your charges down for the prospect.