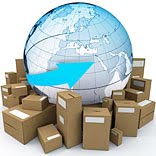 The growth road for any SMEs is full of challenges, what with constraints of finance, resources and other things which are a taboo to them just because they are small, for example: financing is one such challenge, so is stocking of products. Well, we can aptly say that the big fish that is in look out of the small fry will manipulate SMEs where rent for stocking their goods is concerned as they would not like to deal with SMEs because of their small orders and limited fill days. Where a big company may take a full warehouse on rent for say, a year, an SME may require only a part of the warehouse and for a few months only.

Enter drop shipping here which can be boon to such harassed entrepreneurs. With drop shipping, selling by internet, mail order or export and without much storage space for inventory at home can be easier and most profitable option.

According to Wikipedia, "Drop shipping can occur when a small retailer who typically sells in small quantities to the general public receives a single large order for a product. Rather than route the shipment through the retail store, the retailer may arrange for the goods to be shipped directly to the customer. Drop shipping is also very common with big ticket items like steel buildings where the retailer will take a deposit and have the building shipped direct to the buyer's building site from the supplier's manufacturing facility".

Benefits
With elimination of upfront inventory, a positive cash-flow cycle can be achieved. The payment is usually through a credit card or credit terms, hence, there is a period of time in which the seller has the customer's money, but has not yet paid the wholesaler.

Moreover, there is purging of duplication of effort, since only one warehouse will pick, pack and ship the product,  this approach can reduce total inventory management and shipping costs. These cost reductions can subsequently reduce the price to the consumer.

Risks
But like in any business, drop shipping is not free of risks, like back ordering may occur when a seller places a shipment request with a wholesaler, but the product is sold out.

Well, drop shipping does have it fair share of risks but then it is still a good option for the SMEs who are struggling to leverage costs.