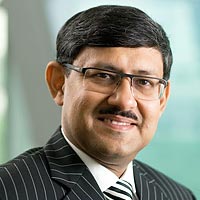 Sudip Bandyopadhyay shares his journey in setting up the firm in a challenging and under-penetrated market. He describes the strategies and key decisions taken by the firm to exploit the market and go on to build a sustainable business model in a collapsing economy.
While the current situation was challenging, the massive under-penetration offered enticing prospects. Destimoney's own assessment suggested that there was an opportunity to target appropriate niches and build a sustainable business, block-by-block, in the financial services space.
The Strategy
In January 2011, Destimoney, which provided equity brokering services to its clients, started exploring multiple options to make the business more viable and sustainable. The capital markets were in the midst of an unprecedented downturn and volumes were fast shrinking. Retail investors had deserted the market. Looming crisis in Europe and the uncertain financial environment in the US were not helping in any manner. With the abysmally low brokerage income, it was obvious that we would have to think outside the box to survive.
Destimoney, which was predominantly funded by private equity, had limited access to additional funding. Thus, we had to keep our costs under control. At the same time, we had to grow the business if we were to survive. Market conditions and volatility had driven away retail and risk-averse investors and we had to, by default, focus on High Net-Worth Individuals (HNI) and traders.
Rather than building our own distribution network, we made a conscious call to create a pan-India, large franchise network.  The advantage was multi-fold.  Franchisees joined us as partners without any incremental cost to ourselves. They would bring in their clients while we would provide our infrastructure to execute trades and we would share the income which helped us scale up the business.  We also used our infrastructure to earn incremental income. Franchisees brought in HNI clients and traders, which maximised their revenue and in turn facilitated our growth.
The Business Model
In order to reach out to a diversified potential customer base in a cost effective way, we took the franchisee route with a hub-and-spoke set up. Our branches, which are at strategic locations, work as a hub, and franchisee locations, spread across the country, are the spokes.
On the product side, we completely focused on bringing out option strategies based on the risk appetite of clients and market conditions. Parameters identified by commonly used letters of the Greek alphabet (widely used by the industry) were employed to optimise returns for clients. These strategies and parameters were given to our franchisees to facilitate their clients' trades.  A dedicated derivative trade desk was set up to centralise clients' trades.
Key Decisions
A major decision was our call to not acquire retail clients, at least in a big way. Markets were volatile and uncertain, and retail clients were extremely wary. Our focus remained on HNI client acquisition. This focus helped us gain market share significantly and we were able to make in-roads with large HNI clients.
While equity markets everywhere were in turmoil, commodity markets were on an upswing. We quickly spotted this trend and started acquiring commodity brokering licenses. In one year, we managed to build a flourishing commodity brokering business on top of our equity brokering business. A small commodity brokering team was set up to acquire exclusive commodity brokering clients.
Outstanding Growth
We grew exponentially even in a year such as 2011, which was probably the worst for the Indian financial markets. Still, this growth required the creation of additional infrastructure and facilities. To manage cost effectively, we adopted a unique outsourcing model in which all non-core activities were out-sourced to leading service providers.  We retained the responsibility for core services and functions like customer experiences and relationship building, risk management and compliance.  This unique model enabled us to piggy back on to the credibility and competence of reputed service providers for peripheral operations like data processing, technology etc.
While we were putting our house in order in the brokering space, we consciously diversified into the distribution of third-party products like insurance. We mainly focused on Tier II, III and IV towns to avoid intense competition.
Expansion
Since we were already dealing with HNI customers in both our brokering and insurance distribution units, we launched a small wealth management business in seven leading cities across the country. Towards the end of last year, we set up a very small unit to offer advisory services to customers in the SME segment.
We believe that insurance plans which combine investment and protection can be ideal for the hard-to-reach rural markets.  As a result, we are in the process of expanding our insurance business unit through a hub and spoke model.
Penetration of financial services in India is still very low, and any business model that can cater to the needs of the masses can become successful. This vast untapped market offers a unique opportunity to develop a sustainable business.
Reproduced with the permission of Ivey Business Journal.
About the Author:
Sudip Bandyopadhyay is the Managing Director and CEO of Destimoney, a Mumbai-based financial services firm.