Do you need a board of directors?
Directors bring experience to the table.
Tags: Do you need a board of directors?
BY Entrepreneur | Jun 09, 2010 comments ( 1 ) |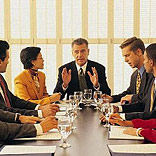 A group of formally dressed people in a conference room, engrossed in a serious discussion - is the picture most of us visualise about board of directors. However, we seldom think of having one for our company.
Mostly the idea of a board of directors and also its importance is not understood by many organisations. "Most of the younger organisations do not have a board because they are not required by the law to have one," says Mr Rakesh Shukla, Founder and CEO of The Writers' Block (TWB). "But having a board is extremely important and in the benefit of the organisation."
Here are some of the functions that a board of directors discharges.
What should you have a board?
The board of director plays some critical functions.
A board of directors helps in the governance of a company. Ranging from business ethics to taking calls on management issues, the board takes decisions on important matters.
Board of directors comprise of experienced people. And so they bring perspective to many matters related to business. Each member of a board specializes in a different discipline, say fiscal or legal matter. Therefore the business can derive benefit from their experience in varied fields.
One of the most important functions of a board is to take care of the statutory requirements of the company. Laws and statutory requirements and specifications are there. But at times there are grey areas pertaining to them and organisations need to take critical decisions on them.
A board can also help a company with the contacts and the network which it has developed in the industry over the years. Their reputation can lure sponsors or other important people in the industry to get associated with a company.
How does a company assess its readiness to appoint a board?
It is not the size of a company that determines the necessity of a board but the number of stake holders that it has. Even in some of the multi million dollar companies, especially those owned by families, there is less number of board members. This is mainly because they are owned by families and do not have as many stake holders like in a public company.
The readiness of a company to have a board also depends upon who are its investors. If the entrepreneur or the promoter himself is the investor then they can have a board of their choice. But if the company has been funded externally, the investors need to be consulted before appointing a board.
Why is it difficult for young companies to have one?
It is difficult for smaller companies to persuade people to be board members primarily because as the board members they will have to share the liabilities of the organisation and in case of a small firm many people are hesitant to share the liabilities.
An alternate concept
Mr Shukla suggests younger organisations to have a board of advisors instead of directors. The basic difference in the two is that a board of directors shares the responsibilities of the company where as a board of advisors does not share the liabilities while discharging the same duties as the former. The organisation can benefit from the experience of the advisors without passing the liabilities to them.
If you have thought of appointing a board keep a few tips in mind. Directors or advisors should be chosen wisely. They should be people with experience who can bring a substantial contribution to the table. The board should be diverse in terms of the experience each member has.
(With inputs from Mr Rakesh Shukla, Founder and CEO of The Writers' Block)
Please add your comment
Pankaj daga
June 15, 2010 at 7:19 am
This is a great idea,even SME's can go for board of advisors, which can be of great help and inspiration.
Reply |