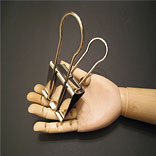 As an entrepreneur you must have put all your effort, mind and time in your business. While establishing your business, it's obvious that you get involved with every aspect of your business, starting from the point of conceptualisation, to making the business plan, arranging for funds, and looking for clients etc. It's but natural that you get a little attached to your business even after handing over various departments to the skilled professionals. But are you becoming possessive about your business?
It is not rare to come across entrepreneurs who are possessive about their business. I realised this lately when I met Mr Vijay Shekhar Sharma, who is the MD of One97 Communications, a telecom company worth hundreds of million USD. But this is not his first entrepreneurial venture.
Mr Sharma started an Internet company Indiasite.net when he was in the second year of his graduation at the Delhi College of Engineering (DCE). It was not just a student's venture started for fun in college days but a company funded by a VC in the US. Towards the Internet downturn, Mr Sharma sold off his company, which he had so painstakingly nurtured.
Mr Sharma says, "Entrepreneurs take a lot of pain in growing their companies that they become possessive about it. They treat it as their baby and want to keep it shielded and protected. They do not realise that in the process they hamper the growth of their own company. Entrepreneurs should work at making their companies independent of themselves, thereby helping them grow bigger than they had imagined," says Mr Sharma.
Some entrepreneurs are not even willing to have partners because they do not want to share the profit and their company with anybody. "Some people even avoid recruitment because they resist delegating the work to other people as they are apprehensive about their capability to be responsible," says Sharma.
Making your business independent of yourself will also give you time for your personal life, an occasional hang out with friends and playing golf. "Some time off from work will revitalise you and will help give better ideas. By making your company independent of yourself you will share responsibilities, thereby making more and more people interested in your company. This will help your company grow faster," says Radha Aiyer a faculty member at a business school that teaches entrepreneurship.
You do not want your company to be paralysed when you are not around. So do not suffocate it, let it expand!