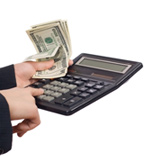 Do you suffer from the running-out-of-cash syndrome before you reach those milestones and find yourself burnt out of business? Don't worry! The solution to this is in calculating your business 'burn rate,' which will indicate when you'll need more investment or a loan, or when you will break even and begin to make profits. When it comes to the cash consumed by your startup business, the slower your burn rate the better it is.

Calculating your burn rate

Your burn rate refers to how much capital you go through each month. When you start up, you begin with a specific amount of capital which you divide by your monthly expenses so as to know how long can you sustain with no revenues projected during the first year. However, in this calculation, you'd be in trouble if you don't start making money by the end of the last month. Rahul Jain, CEO, Business Coaching India says, "Controlling your burn rate can give you the confidence and resources to ramp up your startup business the way you want. Squeezing expenses in that new business is the best way to do it."

Regular monitoring

The key to understanding your company's health is to monitor its burn rate. If you already have revenue, this can help you to keep an eye on your order book and your cash-flow statement. By this you've got your finger on the whole working-capital system of your company and thereby, your burn rate. According to Mr. Krishna Tanuku, ED, WCED, ISB, "It is very important for you to review your burn rate every month, just as you do the components of the burn-rate equation: expenses and income."

Check on business expenses

Obviously, one of your burn rate's two components is easier to control than the other. You can't unilaterally produce revenues for your company, but you can single-handedly control expenses. You should be ruthless about it, particularly in the early going so, monitor expenses every day is a must.


Beware of big commitments

You should keep major outlays and significant new financial commitments to a minimum, especially while you have to aggressively manage your burn rate. Once you decide to incur a big expense, take another day to think about it first. At least make sure you're placing the right bets like adding sales people before a financial manager or buying the right inventory you know customers will readily go for. Kiran Nandkarni, CEO, Kaati Zone says, "One needs to spend your precious cash on what's critical to producing revenue for your startup business."

Generate capital

If you're doing everything possible to contain expenses, but adequate revenue remains just over the horizon for now, you may simply have to add fuel to the fire and get more capital for your startup. While raising money by parsing out equity is one thing, entrepreneurs warn against taking out more loans or adding other debts.