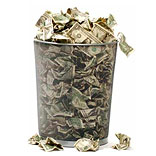 Great business ideas don't become a success without sensible long-term financial strategy. We have seen in the past how big multi-national companies have gone bust due to financial miscalculations. So, entrepreneurs need to be aware of the mistakes that they should avoid in order to prohibit their idea from becoming a nightmare.
Over-optimistic projections
Investors generally get swayed away by numbers but in the long run it surely hits them back. Realistic budgets and projections may be a painstaking effort and might not give you the rosy picture you want but when you execute plans according to it the money got will be the right money, and you should then have a profitable plan to follow for the future.
Ignoring immediate budgetary needs
One of the most common problems is underestimating your financial needs, for instance you require Rs 1 lakh to launch your product in the market, but ask for only Rs 60,000. Potential investors and bankers who will be analysing your business financial plan will only wonder why they should give you money for a project that will fail without additional funding. This was the exact reason behind the dotcom crash, wherein companies burned their initial seed money without coming close to profitability and then gave up. Nowadays investors have become savvier and would rather spend Rs 1 lakh in a smart way than throw Rs 60,000 out the window.
Mismatch of revenue and cash-flow
On practical grounds every business person is aware that in every transaction there is a lag time between the finalisation of the deal and the cash collection and so one should be prepared to manage it. Unfortunately, many businesses aren't and run into serious cash-flow problems because they spend money they don't yet have. A little wisdom, discretion and foresight can go a long way towards corporate survival.
Miscalculated finances
There are certain sections of finances like taxes on revenues and employee withholdings that are temporarily in your books as they finally are transferred in the government's account. Companies should not do the mistake of counting on these finances, otherwise you run the risk of miscalculating the entire budgeting costs.
Mismanaging the advertising timeline
Advertisements play the role of enhancing sales but during budget making, it is always calculated as part of investment on sales. When extra money has to be shelled out it becomes all the more necessary to have a healthy advertising budget before any revenue can be assumed. Failure to accommodate necessary items in, at the right time, will under-utilise finances needed to achieve the sales goals and can lead to overspending at the later stage.
Budget making plays a vital role in the success of any business and entrepreneurs who take it seriously are the ones who reach the finishing line.