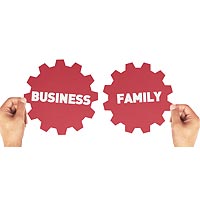 Maintaining a work-life balance is increasingly becoming difficult for both men and women to handle. Many entrepreneurs have to even continue with their professional career/job while they are simultaneously involved in building and growing their own venture separately in order to support their family and livelihood. Working women too have to juggle between multiple roles since their work-life dynamics have changed completely. Day by day, it's becoming more and more demanding and challenging.
Having said this, there's no doubt that dual-career lifestyle is here to stay. Since this lifestyle is expected to increase, entrepreneurs may be searching for new ways to meet their needs and to conserve their valuable resources – time and energy.
The number of dual-career couples all over the world has also increased considerably over the past few years. There are couples who not only have separate jobs and they are fully committed to a rewarding career. But that is not it: dual-career couples are usually married and have kids, so they also have a "family career" to fulfil together with their professional one.
Fortunately, the number of women who work, besides being mothers and partners, is increasing everyday as they are taking over higher positions in very important careers. Most times, this has a great impact not only on family organisation and child care, but also on how couples are structured and how they manage their career and private life. The level of stress is considerably higher. They might struggle to divide chores equally and give equal importance to both careers.
There are a few solutions to handle the pressure and cope equally and peacefully with this kind of life style. Here are few tips for you to enjoy the positive aspects of the dual-career lifestyle:
1. Make Sure You Take Your Time to Relax
This is core to stress reduction and a better mindset. You have to find some time to release pressure and reload your batteries. A very good way of doing it is to buy working out accessories or even some sports and fitness equipments as a bicycle in an online store or a free adds site. Indeed, activities, especially if done open air, can release stress and make you feel better. You might want to consider the option of practicing with your partners, so you guys can spend some time together.
2. Set a Family Day
Career is very important, but the moment you decide you want a family and you have kids, family becomes some sort of second career. So it becomes incredibly important to be present and to dedicate to it properly. A great way to not postpone your family business to your career is to set a day in which nothing can be more important than being with your partner and children and everything else can wait. It could be a full day or an evening, but it is very important you never miss it or procrastinate it. You can use it to do something fun and recreational like going to the cinema, or to the theatre, or take a walk somewhere nice. You can also take a holiday and do it all together!
3. Share Responsibilities
Don't have the pretension to do it all by yourself and learn to trust other people. There are family members and friends who will be glad to help you, especially when it comes to child care and babysitting. So ask them for some help, don't be afraid to count on them and "use" them to fulfil duties that otherwise you wouldn't know how to accomplish. Team work is very fruitful and important and will help you to release a lot of stress and preoccupations.
4. Make a List of Duties
The worst thing that can happen when you are on a tight schedule is to forget to do something important. Unfortunately, it is also the thing that is most luckily to happen when you are under pressure. So write a 'to do list' that includes even the most stupid things, so you won't forget anything and you will be ready to face all sorts of glitches. Indeed, doing everything you need to do means nothing can catch you by surprise or, if it does, you will have the situation under control enough to face it without too much effort.
5. Keep a Positive Attitude
This really depends from you and how you want to live your life. Always remember that everything can be perceived from different points of view and it is up to you which perspective you want to adopt. When you are stressed or under pressure, one of the most releasing things you can do is to think about all the good and positive things in your life and how lucky you are to have them. And these things are your family and your career exactly. So when they give you stress or worries, always remember that to have that stress and those worries means you have some of the greatest achievements in life.