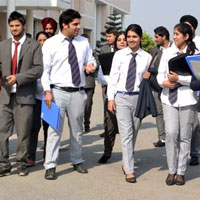 Present Scenario
According to human resource consultants, the year 2014 is expected to be a blessed year in terms of on-campus recruitment for college students across the country.  In the last year, employers in India took huge interest in hiring fresh graduates from various categories of institutes, so this comes as a windfall for students.  
Ramanand Puttige, Head (Business Fulfillment, HR & Talent Deployment), Cyient Limited, says, "Cyient hires from reputed management campuses, engineering campuses and diploma engineering campuses. ISB, IIMs, IITs, NITs, top state engineering colleges, specialised engineering colleges for aerospace and avionics are some of the campuses that we visit. We believe in a sustained long-term relationship with these campuses, and hence ensure that we go back to the campuses that have given us good talent in the past."
Arvind Ponniraivan, Head (Delivery Operations), Maveric Systems, says, "Among all freshers that we hire every year, 60 per cent of them come via campus recruitment. We mostly hire from management schools. We have also hired from IIT but not the engineering students but the MBA students because IIT has its own management division."
In spite of economic slowdown, Indian companies seem to be very much optimistic in terms hiring students and offering them good pay packages. These days, consumer products companies and financial services sectors are considered as the highest paying industries, whereas engineering, manufacturing and automobiles remain stagnant in their recruitment process and end up offering less lucrative salary packages.
Dinesh Kumaran, Head (HR), Aspire Systems, says, "In the last two years, job offerings from manufacturing and electronic companies have come down. These companies have become choosier in terms of identifying candidates."
SMEs Moving Towards Campus Recruitment
It has been observed that apart from various corporate giants, start-ups and SMEs have also taken a step forward towards campus recruitments from some top institutes. As per the reports from recruitment, heads of Pune Institute of Computer technology (PICT), 15 to 20 small companies have visited their institute in recent times.
According to a study by a human resource consulting firm Aon Hewitt, the past few years have seen a substantial growth in the number of entrepreneurial ventures, and 2014 is most likely to mark the new trend of start-up companies approaching colleges to build relationships.
 
Kumaran elucidates, "Every year, we hire 300 to 350 freshers for our company and among them 100 to 110 freshers are hired via on-campus recruitment. We also hire off campus fresher which is about 20-30 candidates. From the last two years, we have been hiring from IITs, IIMs and IIPM also."
Given the other side of the coin, the on-campus recruitment not only helps student secure their future, but also helps companies to get the best talents that can augment the productivity of the company. Moreover, there are companies that firmly believe that building strong association with the academic institutes can help them to maintain competitive edge.
Puttige says, "The campus hiring efforts help us bring in young talent who infuse energy into our work. Their ability to adapt and learn quickly also helps us be more responsive to customers' changing requirements. The young minds provide fertile ground for the experienced seniors to test and pursue new ideas but not compromising on quality of delivery attained through established engineering or work processes."
Criteria for Hiring
While going for a selection process, employers seek for some key criteria from entry level graduates like the student must have clear fundamentals, basic aptitude and willingness to learn. So to make students prepare for the placements, it is mandatory for the institutes to modify the structure of the curriculum on a priority basis and focus on providing coaching classes for students to empower them in all aspects of work.
Kumaran says, "We do not teach students technology, our selection process ensures that they should be very strong in basic concepts. We hire student who can adjust to our work environment and be the part of our internal projects."
As per Cyient, their customers are highly technical, therefore college students needs to be groomed further, so they provide three to six months of trainings which comprises class room training with assessments, tool training with certifications, e-learning and on the job training.
Puttige concludes, "We have had great success with our engineering campus hiring program, which is well established and hire up to 15 per cent of our annual engineering requirements through this process. We are looking to replicate the same through our management training programme."
The present on-campus recruitment scenario seems to transmit positive signals across the country with the colleges letting big shots as well as SMEs to come and hire the best talent.