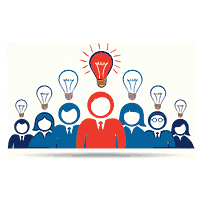 Being innovative means being entrepreneurial. Entrepreneurship involves providing solution to an existing problem and in-turn creating employment and growth for all. The ability to offer something new and unique to the market, challenging the status quo involves hard work, grit and determination.
"Entrepreneurship and innovation are interlinked. Innovation comes when you move away from the conventional methods followed by the industry," says Rahul Sharma, Co-Founder, Micromax Informatics.
In a start-up especially, the entrepreneur plays the key role in turning the idea into reality. In competitive business environment, the entrepreneur along with his enterprise should keep looking for new ideas and opportunities.
Innovation Everywhere
Innovation in an organisation has to take place in areas viz, first, innovation in processes and methods to increase productivity and lowering cost. This eventually leads to increase in demand. Second, innovation in products or services that also leads to effective demand thereby having more investment and more people employed. Third is innovation in management and human resources to maintain the enthusiasm among employees and teams in order to remain united and focused towards work in a fun way.
"For creating a novelty, one needs to observe what is happening in the market, identify the unfulfilled needs and then work on fulfilling those needs through creative and innovative ways," says Aseem Chauhan, Chancellor, Amity University.
Growth Constraints
While it is critical to apply innovation at every growth stage of a firm, there can be numerous constraints to the process. Absence of analysing failure in different segments of the business, lack of innovations in non-core business areas, poor management, informal team formation, lack of rewards and recognition, procedural delays, inadequate management of ideas, etc. are some of the bottlenecks to driving innovation in entrepreneurship.
In order to strengthen innovation in entrepreneurship, the government can play a significant role in promoting innovation through right education policy and skill development at the grassroots level.
Moreover businesses can leverage the increasing usage of ICT tools to disperse information on innovation and create platforms for inclusive participation. Also it is essential to help new businesses provide necessary resources and support and urge associations and industry bodies to create better collaboration between small businesses and large corporates.
"Government has announced 2010-20 as "Decade of Innovation". It is creating awareness about the importance of Innovation by setting up Sectoral Councils and State Councils. Government has also created inclusive Innovation fund of Rs 5, 000 crore to promote innovation in the country and in each and every sector, councils are being set up to promote and highlight creativity," says Dr B.K Gairola, Member Secretary, National Innovation Council.