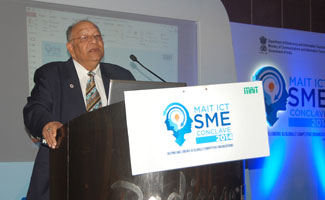 Though India is considered as one of the fastest growing markets of electronics in the world, small manufacturers in the Information and Communication Technology (ICT) are still facing certain backlashes in terms of producing electronic products in India.
According to a report, the electronics industry, reported at $1.75 trillion, is the largest and fastest growing manufacturing industry in the world. It is expected to reach $2.4 trillion by 2020. In India, the demand for electronic products is expected to reach $400 billion by 2020.
However in India, there is a huge gap in demand and supply in terms of domestic production. Therefore, the Department of Electronics & Information Technology (DeitY) has invested around $100 billion in the domestic market to achieve $400 billion mark by 2020 and aims to export electronic products of $80 billion by 2020. DeitY has also introduced various schemes and policies to encourage the domestic manufacturers and reduce the gap between demand and supply.
Schemes for SMEs in ICT space
DeitY has rolled out various schemes to support MSMEs in Electronics Systems Design and Manufacturing (ESDM) sector. These schemes are –
Electronic Manufacturing Cluster (EMC) Scheme supports creation of world-class infrastructure for attracting investments in the Electronics Systems Design and Manufacturing (ESDM) sector. According to DeitY, the scheme was notified on 22nd October 2012 and the guidelines for operationlisation of EMC Scheme were issued on 15th April 2013.
"The financial assistance under the scheme is in the form of grant-in-aid only. For Greenfield, EMCs the assistance is 50 per cent of the project cost subject to a ceiling of Rs 50 crore for every 100 acres of land and for Brownfield EMCs, the assistance is up to 75 per cent of the project cost subject to a ceiling of Rs 50 crore," shares Mukul Yadav, Scientist 'B', DeitY.
Preference for Domestically Manufactured Electronic Goods (PMA) policy would be applicable for procurement of electronic products made under all centrally sponsored schemes and grants made by the Central Government. The guidelines provide operational details for the policy. DeitY informs that DGS&D and NICSI, the two major procurement agencies of Government of India, are expected to ensure compliance of the policy in their procurement.
DeitY is also planning to implement Multiplier Grants Scheme (MGS). This scheme aims to encourage collaborative R&D between industry and R&D institutions for development of products and packages.
Under the scheme, if an industry supports R&D for development of products that can be commercialised at institution level, then the government will also provide financial support of twice the amount provided by the industry. The key objective of this scheme is to encourage and accelerate development of indigenous products/packages, and bridge the gap between R&D and commercialisation.
Government Support to SMEs
Though it is well-known fact that MSMEs are the backbone of Indian economy, but there are certain issues that restrict small businesses to flourish. The above mentioned schemes are formulated to support MSMEs in the electronic sector with an aim to provide financial assistance in order to promote manufacturing, maintain quality in manufacturing and encourage exporters.
"The first and foremost issue with SMEs in India is that most of them are still living in a shell. They do not know what is happening outside their shell. Similarly, nobody knows who these SMEs are and what they are doing. Majority of the CEOs and CIO are not aware of the schemes and tenders that government has introduced for them," states Rahul Gupta, Chairman-SME Chapter, MAIT (Manufacturers Association for Information Technology).
He further added that though small manufacturers have the capability to produce goods in India, but the lack of funds seems to pose a serious barrier for them. Here comes the role of MAIT who facilitate the process of funding. MSME Ministry has launched Rs 1 crore collateral free loans for MSMEs and not even 5 per cent of SMEs are aware that such schemes are available.
Moreover, sales and marketing is also considered as one of the key problems for MSMEs in India. The key objective of the MAIT SME Chapter is to promote these SMEs in the market and make them aware about the information available. Therefore, MAIT has also launched an e-portal for small and medium enterprises in the ICT sector in a bid to encourage manufacturing of IT and electronics production.
The membership will provide these SMEs a full page in the portal to make its presence felt across the world because the portal is visited by people not only in India, but also from abroad. The membership fee of this portal is Rs 1,000 per month.
Future Roadmap
Nowadays, foreign countries seem to consider India as the preferred destination for manufacturing. Gupta emphasised that Taiwan is one of the biggest example as it earlier used to invest in China and they are now eyeing investment in India on a big scale.
To draw the attention of foreign countries, MAIT has taken plethora of initiatives by inviting concerned delegations from Taiwan, Israel and Canada. "The association between these countries are very collaborative. MAIT SME chapter is trying to build a possible collaboration between Indian SMEs in electronics manufacturing (ICT) space and organisations abroad, which are willing to enter Indian market," explains Gupta.
Apart from these initiatives, MAIT is also planning to start a job portal to address the problems involved while scouting for skilled employees. As compared to large enterprises, SMEs do not have the financial capacity to post advertisements in well-known job portals.
"Small businesses generally do not have enough capital required to take part in big events or shows. The world's largest IT business exhibition and conference CeBIT 2014 will take place in India for the first time in Bangalore in the month of November and a big emphasis will be on MSMEs in the software and hardware industry. MAIT will allow SMEs to take part in this show as an exhibitor by enabling them to take booth at lower cost. In this way, SMEs can exhibit and demonstrate their products manufactured in India at an international platform like CeBIT," concludes Gupta.