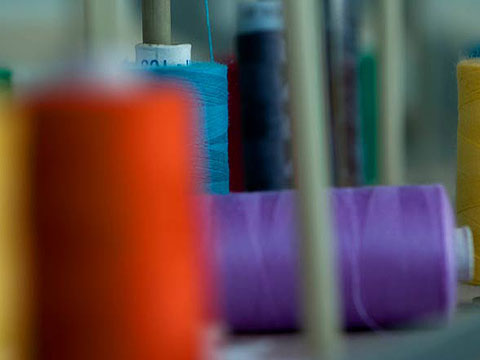 The Indian textile sector's contribution to Indian economy is huge. The sector, predominantly MSME intensive, is climbing the growth ladder despite a handful of critical issues. To make MSMEs in the sector shine, these issues have to be worked out in time.
As per the Ministry of Textiles, the domestic textile and apparel sector is expected to hit $141-billion mark by 2021 from $58 billion in 2011. Exports, on the other hand, are intended to grow by 25 per cent, from current size of $40.2 billion to $50 billion by the end of FY15 and further to reach $82 billion by 2021. In terms of employment, the sector boasts of being the second largest employment generator after agriculture, employing more than 35 million people.
No matter how vibrant the sector is and what growth it has been achieving, industry experts and businesses are increasingly raising concerns for factors pulling down the competitiveness of Indian textiles units domestically and internationally.
Easing Import-Export
India enjoys a competitive edge over countries like the US, UK and Italy in terms of the skilled labour cost per month, but when pitted against neighbours like Bangladesh, Pakistan and China, India lags behind. For instance, Bangladesh gives only $40 to a worker per month, whereas in India the salary of a skilled labour is around $150.
"Bangladesh is a very big competitor for us. It exports garments more than India and buyers are attracted towards their garments because of the price gap. For example, I have about 500 workers, so when I pay $150 to each worker in comparison to $40 being given to each worker in Bangladesh, this adds to the cost of garments I manufacture and makes them expensive than Bangladesh's garments," says Anil Varma, MD, Monica Garments, a Delhi-based export house.
Furthermore, importing from an under-developed country like Bangladesh doesn't require a foreign buyer to pay import duty, whereas importing from India will mandate a 15 per cent import duty. For example, a Rs 100 garment imported from Pakistan or Bangladesh will cost Rs 115 if imported from India. Hence to remain competitive, Indian units have to reduce their margin by Rs 15.
The anti-dumping duty from 5 per cent to 16.90 per cent imposed on all types of synthetic yarn imported from China, Thailand, Malaysia, Korea and Indonesia has continuously impacted the fibre processing units in India.
As a result, yarn manufacturers have to increase the yarn price by around 30 per cent per kilogram that hugely increases the product cost of textile firms. Moreover, Indian yarn's high cost vis a vis Chinese yarn are also forcing processing units to import rather than buy domestically. After the imposition of anti-dumping duty, these units are at the mercy of domestic yarn manufacturers.
"The anti-dumping duty on yarn should be removed. MSMEs do not source yarn domestically because its prices fluctuate with the demand. If we purchase in bulk, we are not certain what should be our production cost after, for say two months, when the product will be ready," says Jitubhai Vakharia, Chairman, South Gujarat Textile Processors Association.
Unviable Interest Rate
Although the interest rate has come down to 10-12 per cent from 14-15 per cent in 2012, MSMEs in the textile industry are still not finding it viable to do business. The sector has been demanding to bring it down to 7 per cent similar to agricultural loans.
"High interest rate pulls the industry back in achieving the global benchmark. There are many countries that have only 2.5 per cent interest rate, whereas in India it is 12 per cent," says Anil Kumar Jain, CMD, Indo Count Industries. The company manufactures bed linen and cotton and blended yarn.
The 3 per cent Interest Subvention Scheme by the government on bank loans taken by MSMEs is pending for renewal since March this year. The scheme will be of great respite to MSMEs particularly exporters in terms of price competitiveness. In FY14, reduced interest rate benefitted exporters by earning Rs 400 crore approximately.
"With 12 per cent interest rate, we can't compete in the international market. It is the question of survival for exporters in India now," says Varma.
Managing Labour
High cost of living in cities like Delhi, Noida, Mumbai, Gurgaon and Faridabad are forcing labour (despite earning Rs 8,000-12,000) to migrate to their hometowns offering similar job prospects. This has led to an increase of production cost by 15-20 per cent. Moreover, in many cases, for better remuneration, workers switch to new companies once they are skilled.
The new BJP government has already approved amendments to three multiple-decades old labour laws – Factories Act 1948, Apprenticeship Act 1961, Labour Laws (Exemption from furnishing returns and maintaining of registers by certain establishments) Act 1988 – to ease the availability of labour along with hiring and retaining them.
Amendments to the Factories Act will allow women to work in night shifts in some segments with appropriate security measures and transport facility. On the other hand, changes in Apprenticeship Act aim to allow firms to hire apprentices and get industry-specific skills and training.
Lastly, the revision in Labour Laws (Exemption from furnishing returns and maintaining of registers by certain establishments) Act 1988 will allow small units to file single return in order to be in compliance with 16 different labour laws.
"The foremost step to take will be the reform in labour laws. There is a lack of skilled people in India and many companies have started their own training centres for training youths. The last government did not consider this issue," says Santosh Kumar Gangwar, Minister of State (Independent Charge), Ministry of Textiles.
Support Measures
One of the important steps that last government took last year was the continuation of the Technology Upgradation Fund Scheme (TUFS) in the 12th Five year plan. Intended to boost investments in technology upgradation in the textile and jute sector, the new government in this year's budget has allocated Rs 2,300 crore (Rs 100 crore less than Rs 2,400 allocated last year) for TUFS out of the total outlay of Rs 4,831 crore for the Textiles Ministry.
However, it is also important to understand that the budget was presented late this year (in July), whereas usually it is presented in February of every year. "Since the budget was launched in July, if you see the number of months to be allocated is less, so overall there is an increase if you see per month," says Varma. The monthly allocation of Rs 2,400 crore last year was Rs 200 crore whereas this year for seven months, the allocation of Rs 2,300 crore is around Rs 328 crore.
Furthermore, Finance Minister Arun Jaitley, in his budget speech, proposed the setting up of six additional mega clusters in Bareilly, Lucknow, Surat, Kutch, Bhagalpur, Mysore and one in Tamil Nadu. "Investment worth Rs 30-70 crore will be made in infrastructure in the mega clusters announced by Finance Minister, in which only small businesses will be set up not large companies," says Gangwar adding that 25 new textiles parks offering world-class infrastructure to textiles units are also proposed to be set up.
Going Up
The future is certainly promising for MSMEs in textiles sector given the growth projections buoyed by rising domestic demand and exports.
Currently, India is the second largest textile exporter globally, after China. "Today in China, there are 1,700 factories while there are handfuls in India and all of them are small businesses. In next five years, India will be the larger exporter because China is increasingly becoming a net importer. In fact, India is the only country that will win in textiles in the future," concludes Jain.