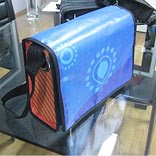 Further, the Games signage supplier, Signage India Pty Ltd sold this flex banners and billboards which is made of polyvinyl chloride or PVC to Conserve India, who in return developed a new range of vinyl upcycled products with a positive move towards dealing with major events waste(the Conserve Delhi 2010 pilot project).
What is Conserve Delhi 2010 Project?
The Conserve Delhi 2010 project is a collaboration between Australian Endeavour Award scholar Liz Franzmann and Delhi based up cyclers, Conserve India with the aim to:
1.       Create new meaningful products out of Common wealth Games waste- establishing Delhi 2010 as the first Games to up cycle event waste.
2.       Enhance Conserve India's capacity to improve the wellbeing of Delhi's  poorest communities by selling more of their up cycled products.
3.       Spread public awareness on waste issues and benefits of up cycling.
Corporate volunteered help
Aviva were running a brand campaign projecting photos that were donated by members of the public onto a flex banner hung from wall of Statesman house Connaught Place, Delhi. When they heard about the Games upcycling pilot, they engaged Conserve India to create a range of school stationary products from the Statesman House banner material. And another 400 stationary items will be made by combining the Aviva banner with the CWGs banners. And the end products would be distributed to disadvantaged school kids.
Other plans
"Apart from the above, Conserve India is exploring other markets for positioning products that would be made from the rest of the wastage", Liz Franzmann informed.
Successful conclusion:
Franzmann is cheerful as she shares that they have achieved the targeted objectives like the possibility of upcycling and selling as products of higher value. Attracting corporate interest in their projects, and potential to leave positive environmental and social legacies by working with local social businesses.
Well, as I wrap up, I dole out tons of kudos to this passionate lady from Australia for her incredible project. I remember, how nervous she had been with her head in the clouds at the beginning of the project, since, being a foreigner, she had no contacts in the industry, no resources of manpower, designers or a team. Moreover, time was another major constraint.  But in the end, she achieved it all. Cheers to Franzmann and Conserve India for their incredible gift to Indians by way of environment protection and the valuable up cycled products.