Fostering Business Between India, US
India and the US are working together to improve business ties and eliminate investment barriers.
Tags: US india bsuiness, American business Corners, USTR, US import, India import, Indian Chamber of Commerce, Anurag Aggarwal, Mohali Industries Association, McKinsey
BY Rita G. Chauhan | Aug 08, 2013 comments ( 0 ) |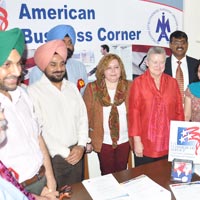 The US Commercial Service has been opening American Business Corners (ABC) in different Indian cities and offering new biz opportunities by connecting both countries manufactures.
India and the US are big trade partners. The US imported $36.15 billion worth of Indian goods and exported $21.50 billion worth of goods to India in 2011. India exported textiles, gems and diamonds, machinery, iron, chemicals, steel products and food products to the US. Simultaneously, US items like fertilisers, aircraft, computer hardware, medical equipment and many more were imported by India. As per the information from the Office of the US Trade Representative (USTR) that works for developing US international trade relations with other countries, the US is India's largest investment partner with more than 9 per cent of total foreign investment. However, local manufacturing restrictions, tax policy and many other trading norms are the main challenges that stop the manufacturers of both countries from investing in each other's country. So to strengthen the bilateral trade relations and increase investment flow, both countries have created a number of business forums and started different programmes mutually.
Trade Extension
The US and India are coming together to extend the regional trade involvement. For similar reasons, the US Commercial Service has taken a step ahead and opened American Business Corners (ABC) across India in association with the Indian Chamber of Commerce (ICC). Anurag Aggarwal, President, Mohali Industries Association (MIA), says, "The ABC is a concept to connect businesses of the two countries to provide mutual benefits." On the need of ABC, US Ambassador Nancy J. Powell, says, "India and the US have strong socio-cultural linkage, so it is important to work together for strengthening the trade relations. ABC will work as a common platform and bring US companies nearer to Indian companies and act as a bridge to connect them." India's exports to the US grew by about $4 billion to over $41 billion and US exports to India increased by $1 billion to over $22 billion."In addition, the Foreign Direct Investment (FDI) into India from the US has reached $24.7 billion in 2011; whereas as per the Department of Commerce, Indian investment in the US was $11 billion in 2010 with the creation of 100,000 jobs. India's trade with the US reached $100 billion last year and has a potential to reach $1–trillion mark. The US is among the top destinations for FDI for India. Thus, the growing flow of Indian capital in the US market is benefiting the US economy in many ways. Simultaneously, this joint programme would be a favourable move for India, too as it provide the opportunities for Indian SMEs to access the successful markets of the United States.
Market Setting
India has a massive market with tremendous advantages for different businesses. According to McKinsey, India's consumer market is growing very fast and expected to become the world's largest by 2025. So, many countries want to set up a business here. But doing business here is not easy task as it needs a long-term strategy as things take time to happen because of diversity at various stages. Before setting up a business in India it is very important to know about its states for the reason that all of them have their own rules and regulations of doing business. To remove this constraint; US Commercial Service has decided to open ABC with different business chambers across India.
ABC for Business Extension
The ABC aims to raise the visibility of the US Commercial Service in India's upcoming cities with untapped commercial opportunities. Kamal Sahi, Resident Director, Indian Chamber of Commerce, Bihar, says, "It is an extension of US Commercial Services in Tier 2 and 3 cities of India where it does not have a physical presence. It helps US companies to reach out to a lot more promising companies in these smaller cities, which was otherwise impossible for them to approach." There are 12 total ABCs across India and US Commercial Service planning to open more very soon." It has been launched in the cities of Coimbatore, Madurai, Vishakhapatnam, Kochi, Thiruvananthapuram, Mangalore, Bhubaneswar, Guwahati, Patna, Surat, Jaipur and Chandigarh. Meanwhile, other foreign trade agreements like Trans-Pacific Partnership (TPP) are linking together these two countries and enhancing the potential for future business ties.
Facilitate Entrepreneurship
The programmes like ABC will connect SMEs in these cities with US exporters by engaging local chambers of commerce and their members and facilitating doing business in the US. These centers provide information about US companies and upcoming business opportunities through brochures, booklets, newsletters, magazines and CDs. Aggarwal says, "MIA will be holding seminars along with US Commercial Department for sensitisation of MIA members of how to do business with American Companies." These types of quarterly trade related activities will form the basis of a yearlong growth plan for SMEs with the ABCs. Sahi adds, "The Indian entrepreneur can get the necessary information on the US market during the interaction with US Government officials as when they travel to these ABC's." Concurrently, Atul Shahi, President, SA Industries, who is associated with ABC believes that ABC will prove to be a boon for industrialists. He says, "Regular information bulletins, like ABC informs, about the changes in business laws by either governments will prove beneficial for all members. Also, periodic interactions between business partners in both countries if facilitated by ABC are looked forward to." SA Industries is doing business in American market since 2005 and has vast exposure to the Indo – American business relations.