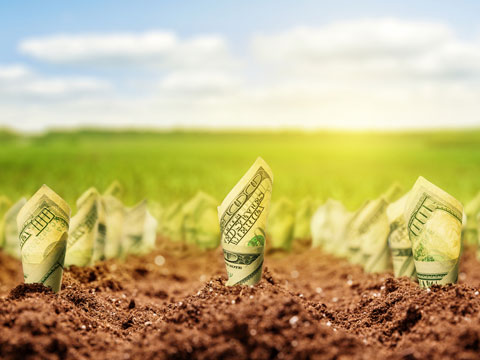 The air is full with optimism as we enter 2015. This is driven by change in government in 2014, which is working on pushing the economy to 8 per cent - 10 per cent trajectory. But accelerating growth from 5 per cent - 10 per cent requires significant investments. I believe that venture capital and private equity has a very important role in the economy, not only as a source of capital, but also to drive the growth and governance among Indian SMEs.
Among all emerging sectors – e-commerce, IT, healthcare, education and financial inclusion have been favorite sectors for investors in 2014. I believe that the next sector to watch out for is Food processing and Agribusiness. This article discusses the potential of investment in this sector and the opportunities and challenges it holds for the Private Equity (PE) investors.
1. Key drivers for investment in the food supply chain:
A. Rapid growth in demand for food
Indians consumes about $300 billion worth of food products every year. Food constitutes the largest portion of the Indian consumer's spending — about 30 per cent share of the wallet. The growth in consumption has been in the range of 7-8 per cent per annum in the last decade. Approximately one fourth of the total Indian consumer spending on food (estimated at $75 billion) is on tertiary value-added processed products, where the consumption growth has been in the range of 12 per cent - 14 per cent per annum.
In line with the evolution of global food demand, with the rising incomes in India, there is a shift from carbohydrate staples to protein including animal protein (milk, meat) and vegetable protein (pulses, soy) as well as towards more fibre, vitamins and minerals from sources such as fruits and vegetables. The per capita consumption of milk, fruits, vegetables and meat products are all rising at higher rates than those for cereals.
As populations in India begin to further diversify their diets and consume more animal protein, demand for grains that serve as animal feed tends to rise exponentially as every kilogram of poultry requires 2.7 kilogram of animal feed and every kilogram of beef requires 7 kilogram of grains. Grain yield growth rates have been slowing over the last decade in comparison to the previous 35 years. Hence, meaningful acreage expansion—or productivity enhancement-- is needed if supply is to keep pace with demand. Unfortunately, no massive new productivity gains are expected soon, at least not along traditional R&D trajectories.
This is also evident in consistent double digit food inflation for last few years now. Food inflation has become more of a systematic phenomenon as supply chain is not responding efficiently to the demand patterns. Food inflation has various dimensions. Though, it means higher price for the consumer, it also means more money in farmer's pocket. However, the intermediaries in the food supply chain in India have gained much more from inflation than the farmers themselves.
The demand scenario is further complicated when one considers the use of raw material for processed foods for the purposes of fuel and animal feed. The share of demand for agricultural commodities as input for the animal feed and biofuels sector has substantially increased.
For example, the share in demand for cereals of food, feed and fuel globally is currently approximately 50 per cent, 30 per cent and 20 per cent respectively, with the trend gradually shifting in favour of feed and fuel.
Indian food demand is unlikely to see any decline in volume and value terms for many decades to come.
B. Supply constraints -land, water, labour, energy - driving productivity and efficiency
Key resources such as land and water are in scarcity. The per capita availability of arable land globally has come down from approximately 2.2 acres to 1.2 acres in last 50 years . Accordingly the supply of food would seem to face significant constraints unless there is substantial growth in productivity and/or reduction in waste.
Unfortunately, no massive new productivity gains are expected soon, at least not along traditional R&D trajectories. Finally, to make things even worse, climate change related challenges such as glacial melt, rising sea levels and unsuitable or unreliable weather are expected to reduce the amount of food that traditional producing areas can grow.
Falling water availability, rising energy and labour cost are driving process reengineering and innovations. Use of IT is becoming more prevalent across the food supply chain. Innovation in warehousing and temperature controlled distribution are also evident in India, which in many cases are supported by capital from VC/PE funds.
C. Opportunities for scale, productivity enhanced margins, consolidation and the defensive nature of the industry
Agribusiness is attracting financial investor's attention primarily for three primary reasons:
• Scalability opportunity of investments which have the potential to gain a scale of 3x-4x either in a typical investment period of 3-5 years, driven by productivity increases and a relatively stable demand scenario
• Margin improvement opportunity on the back of supply chain efficiency and economies of scale
• High degree of resilience of this sector as proven in the recessionary times
There are two additional factors that will drive investment in the sector:
• The integration of the global food value chain has picked up pace with increasing cross border trade and with transfer of technologies, skills and talent from one region to another.
• Another key factor contributing to this increasing flow of capital is the gradual homogenization in consumption patterns. Internationally, most food brands are positioning themselves on one or more of the three core strategies: health/wellness, taste and convenience. Agribusiness companies have the opportunity not only to serve domestic market but also regional or overseas markets with same or similar product mix. The improvement in infrastructure for storage and transportation is also facilitating companies to address overseas markets. In turn companies are increasingly able to build scale and develop supply chain and standards acceptable to world markets.
India as well as other BRIC countries should continue to be the focus for the private equity investors due to huge domestic demand and scale, potential to export, opportunities to organize the retail end and many consolidation opportunities in the industry.
D. Growing consolidation and strategic interest in the sector
Most multinationals have entered India through acquisitions or joint ventures with Indian companies. The key reasons are that most multinationals find Indian partners to be best positioned to look after farmer relationships and supply chain management, and in any case, after deciding to enter the market, are in too much of a hurry to seek green field growth in a very different economic and cultural environment. The foreign companies invariably bring expertise in research & development, branding, distribution and supply chain management, to the local partners.
International players such as Wal-Mart, Metro, Tesco, Lavazza, Starbucks, Schreiber, Lactalis, Hershey's, Total Produce (part of Fyffes Group), InBev, Heineken, Carlsberg, Anheuser Busch, Tyson Foods, Orkla Foods, Barry Callebaut, Olam International, John Keels, Chr Hansen, Kerry and Dr. Oetker have all entered India in last few years, in order to tap the huge and growing consumer base.
The recent acquisitions of Indian companies by international players (Lactalis – Thirumala Dairy, Orkla Foods – MTR, Dr. Oetker –Fun Foods) and joint ventures (Bharti –Del Monte, Tesco-Tata, Godrej-Tyson Foods, Starbucks - Tata) in India are some of the benchmark transaction in the Indian food industry marking the entry of large food players in the Indian food market.  I must qualify that it has not been easy for everyone as evident from break up of Bharti and Wal Mart JV; Godrej and Hershey's and withdrawal of Carrefour from Indian market.
Multinationals such as Nestle, Unilever, Danone and Cadbury's (now Mondelez), who have been present in India for several decades, are reworking their strategy to gain a higher share of the consumer food basket.
Most large Indian corporations have invested in some part of Indian supply chain. For example, Tata group is present in pesticides, implements, tea, salt, pulses, fresh produce and retail. ITC has set up e-choupals which not only sell products in the rural markets, but also aggregates farm produce for exports and domestic markets. ITC has also announced foray into dairy sector. Leading business houses in the country including Tata, Reliance, Aditya Birla, ITC and Bharti have announced substantial investment plans in this sector, given the significant growth opportunity.
The Government of India allows FDI into most agribusiness sectors through the automatic route except for the acquisition of agricultural land, retail and plantations. Food companies entering India can therefore own 100 per cent of India operations in most of the sectors.
Given high degree of fragmentation, the sector has seen a number of deals including joint ventures, mergers and acquisitions. The drivers of consolidation have been market entry, expansion of market and product range and achieving efficiency in sourcing and distribution.
The industry is ripe for further growth and consolidation. Most large food companies are open for growth by acquisition. Thus, the sale to strategic investors would remain a key exit route for private equity investors.
2. Investment Opportunity in the Indian Food Value Chain for Financial Investor
India is one of the world's largest producers as well as consumers of food products, with the sector playing a critical role in the Indian economy. India's agriculture sector employs nearly 60 per cent of the country's population and contributes approximately 18 per cent of India's gross domestic product . With access to a large natural resource base of 161 million hectares of arable land, 15 million hectares of fresh water reservoirs , the largest livestock population in the globe and diverse agro-climatic conditions, India is a highly favourable locus for growth in the food industry.
Speaking generically, the Food and Agribusiness chain comprises agricultural inputs, production, warehousing, logistics, trading, packaging, processing and food retail and services. The total size of the food and agribusiness market in India is currently estimated at $375 billion . Out of $375 billion, approx. $300 billion is food and rest includes agricultural inputs (seeds, fertilisers, and pesticides), animal feed and non-edible products such as cotton, jute, and equipment.
The size of this market is expected to increase in to more than $500 billion by 2020. The investment required to achieve this scale is estimated at $30-35 billion, out of which between 40 per cent-50 per cent will likely be financed through equity from entrepreneurs, government and private funds. Even if we assume that one third of the equity investment would be in the form of venture capital and private equity (VCPE), this translates into VCPE opportunity in range of $5 billion till 2020 and approximately $800 million per year. For the past few calendar years, the VCPE investment into the sector has been in the range of $150-200 million. Thus, there is a large gap between the existing and indicated level of investment to achieve the growth potential of the sector.
To manage risks in the growth scenario, there is need to incubate and test new models for supply and production, and it is difficult to see how expansion of existing companies could occur without a focus on general business improvement and resource management.
In context of this growth scenario, typical capital requirements of businesses in this sector would be for capacity addition, regional expansion, strengthening of sourcing and distribution network and meeting incremental working capital requirement – and there is little availability of affordable capital left to invest in long term risk mitigation strategies.
VCPE—especially at the SME level-- is well-positioned to take advantage of many growth opportunities in the Indian processed food sector by providing expansion capital to companies in this sector.  Further, by focusing on general business improvement at the same time, investments in this segment will gain substantial increases in their valuation multiples.
Given the opportunity in Indian agribusiness, there is beginning to be significant interest for investment funds addressing specifically this sector. In spite of all the positives mentioned above, however, investors need to understand the key issues specific to investment success in this sector:
A. Access to Deals
The industry is highly fragmented and dispersed across geographies across the country. Only funds with extensive experience, coverage, network with entrepreneurs and linkages are placed to spot the right deals, and to provide needed assistance. The opportunities can consequently be significant; at the same time, without such extensive experience and understanding of the entire agribusiness sector, including specifically both the local and global standards involved, non-specialised funds stand to make substantial mistakes in both their diligence and their selection of investments.
B. Size of deals
Given the fragmented nature of the industry, the best investment opportunities are in SMEs. Most funds have been able to do deals with investment size of more than US $10 mn, and generally far excess of that amount. However there are only handful of deals in excess of US$ 10 million in this sector. In general, too much capital is chasing such deals leading to steep entry valuations.
Hence, the financial investors with early stage and SME investment experience are better placed to invest in this sector.  Those funds targeting investments in the early stage / SME space can expect to find a richer deal flow, as well as a wider array of exit opportunities.
C. Understanding of the complexities in the food supply chain
As discussed earlier, the various food supply chains are probably the most complex supply chains in India. Such chains are controlled and influenced by millions of farmers, intermediaries, processors, suppliers, government authorities, distributors, retailers and of course a heterogeneous mix of billion plus consumers.
An in-depth understanding and experience of the specific supply chains is a must to understand the potential and challenges from the investment point of view. For example, the poultry industry is intrinsically linked to corn and soy industry. The soy price in India in turn is linked to soy production in Latin America and the demand for soy in China. Similarly, the price of skimmed milk powder (SMP) is dependent on the reconstitution demand in the domestic market, production levels in Australia and New Zealand, subsidy levels in the EU and the US, import tariffs, production of substitutes such as whey and soy proteins and demand from milk deficit regions particularly China and Middle East.
An understanding of the local as well as global trends and benchmarks will become increasingly important with the increasing integration of Indian food supply chain with the rest of the world. An understanding of commodity and farmer financing cycles and inter-linkages in the supply chain and global factors driving pricing are critical for a through due diligence of the investment opportunities. 
D. Post investment value add
Though true for virtually any PE investment, and especially at the SME level, investments in the agribusiness sector require highly active partnering. The fund needs to play complementary role with its investments and intends to play an important role in India in improving competitiveness, establishing marketing linkages, arranging working capital  / long term capital and helping entrepreneurs in accessing technology from overseas.
Conclusion
The Indian food and agribusiness sector is at inflection point. While largely starved of growth capital, especially at the upstream levels, the sector is characterised by significant and accelerating demand, as well as the inevitable rise in organisation at the retail end.
The companies in the Indian food and agribusiness sector have an unprecedented opportunity to scale up and improve profitability. The fund managers with the ability to spot the right deals and capability to value add (market linkages, technology, productivity, supply chain efficiency, financial controls), will profit from this timely opportunity.
The forecast for 2015 and many more years to come is that we are going to witness at least $500 million per annum deal activity in the food and agribusiness sector. This will be in the form of early stage or growth capital. Buyouts in this space are not an immediate possibility. VCPE funds will drive the interest of strategic investors and will set the platform for many M&As in years to come. It will have far reaching impact on Indian food and agribusiness in terms of building world-class scale and global food supply chains.
The writer of this article is Hemendra Mathur, Managing Director, SEAF India Investment Advisors. He has about 18 years of experience in PE, management consulting and investment banking. He is also associated with many mentoring and incubator networks advising startups across a range of sectors. An IIM-Ahmedabad alumnus, Mathur holds a Bachelor's degree in Agricultural Engineering from Rajasthan Agricultural University. The views expressed here are personal.