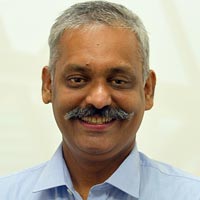 Hitesh Shah
Director, Commercial Relationship BlackBerry
In an interaction with Entrepreneurindia.com, Hitesh Shah, Director, Commercial Relationship, BlackBerry, India, talks about how BlackBerry is helping SMEs with their offerings.
Does BlackBerry offer any special services to SMEs?
SMEs have been the backbone of India's economy. They play a critical role in the growth of the nation by contributing to the GDP, industrial output and generating millions of employment opportunities.
Being the leader in the enterprise mobility segment, we have implemented a dual approach strategy that is from a solution as well as from a device perspective –first one is focused on the enterprise and the latter on consumers. In India, we are aggressively targeting large, mid-level and small businesses alike. BlackBerry currently has some of the strongest and most robust enterprise services and solutions in the market having transitioned from the 'push mail' image.
BlackBerry Enterprise Server (BES), BES Express, BES 10, BlackBerry Balance and Mobile Voice System (MVS) are some of our key solutions specifically designed for the enterprise segment.
With the increased focus of enterprises on the application ecosystem, we have been deploying customised enterprise applications for our clients based on their individual requirements, developed by our ecosystem of over 40,000 developers in India.
BlackBerry had a tie-up with digital marketer, GETIT Info services Ltd. In what ways the tie-up will help SMEs?
This partnership will help us market BlackBerry enterprise solutions for SMEs through GETIT's strong field force and provide company's enterprise-grade, cost-effective mobile solutions. SMEs are looking at smartphones for driving employee productivity and collaboration, enhancing customer service and ensuring data security, all this with little or no capex.
Our Enterprise Mobility Solutions include BlackBerry Enterprise Server Express, which is available for free and features no software license fees or additional per user license fees. The association with GETIT provides a great opportunity to expand our presence in the SME segment. We have been getting a great response from this association and SME segment as a whole.
How much is the penetration of BlackBerry services among SMEs?
Being the leader in enterprise services, our aim is to emerge as the preferred mobility solutions provider for the large Indian SME market through our differentiated offerings like BlackBerry Business Cloud Services, Hosted BES Express and BlackBerry Mobile Fusion solutions.
Currently, we have about 20 per cent share of the overall mobility spend among Indian enterprises. As per the SME Chamber of India, SMEs are growing rapidly at 35 per cent annually and are contributing 22 per cent to the country's GDP. The growth of SMEs in turn have also increased their tech spends, including mobile solutions. In the near future, the SME segment is expected to embrace mobile technologies in a big way.
What is BlackBerry Balance? How does it help SMEs?
BlackBerry Balance technology is designed to compartmentalise and secure corporate and personal information on BlackBerry devices so that users can stay seamlessly connected to both. Whether their own device or one provided to them, BlackBerry Balance offers users the flexibility to protect their sensitive work information while ensuring privacy of personal data.
SMEs can benefit immensely from BlackBerry Balance by enabling them to have the reliability, security and manageability of corporate data even on employee-owned devices. Given the growing trend of BYOD (bring your own device), this makes eminent business sense to SMEs. BlackBerry Balance allows use of personal apps while restricting copy-and-paste functionality to prevent business information from being shared.
Are you planning to launch new service(s) for SMEs?
For SMEs, choice of technology, management and security of their corporate data is as critical as that for any enterprise. BlackBerry Enterprise Service 10 represents both an evolution and consolidation of BlackBerry's enterprise mobility management (EMM) product portfolio, which includes Mobile Device Management (MDM), security, infrastructure and app management products to make things simple, flexible and scalable for organisations. The BES 10 has been devised keeping the evolving needs of corporates in mind.
Our BlackBerry Enterprise Server Express solution is very popular among SMEs. The zero-cost software provides SMEs the mobility platform to deploy corporate email and applications on BlackBerry devices and manage them securely, without the need of any additional license cost.
In addition, BlackBerry Enterprise Server Express includes BlackBerry Balance technology and support for Microsoft Office 2010. Our association with GETIT will help us reach out to SMEs with mobility solutions at attractive costs, for greater productivity and manageability.
As the penetration of Windows and Android services is more among SMEs, what BlackBerry is doing to make its services more popular among SMEs?
With the introduction of BES 10 and our partnership with GETIT, we intend to focus on expanding our presence in the SME segment. BlackBerry BES 10 is a single unified console that can allow enterprises to handle all BB10, Android, iOS devices. BlackBerry Mobile Fusion (BBMF) is designed to help faster and easier management of mobile devices that enable better cross platform management of BlackBerry as well as iOS and Android devices – all from a unified interface without any compromise.