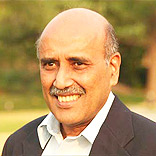 Wadhwani Centre for Entrepreneurship Development at ISB (India School of Business) began last year with the view to empower and encourage entrepreneurship by incubating business ideas and focuses on creating an effective ecosystem for broad based entrepreneurial development in India. Dr Krishna Tanuku, Executive Director tells us about his vision and WCED's initiatives.
Bhuvnesh Talwar: What does your work entail as an incubator?
Krishna Tanuku: We as incubation believe in a holistic approach when it comes to improving entrepreneurship in India. We don't  restrict ourselves to just providing the basic support and mentoring but also work on creating a body of knowledge and a mechanism to disseminate information and services in an organised manner. We work with the government for policy initiatives and creating an effective financial ecosystem so that funds are readily available to the new enterprises. We believe in effective mentoring accompanied by a review system. For us entrepreneurship implies both start-ups and enterprise growth.
BT: What is the procedure for selecting an entrepreneur for incubation?
KT: Presently we go for only ISB graduates but we allow business teams comprising of at least one ISB alumnus. By next April-May we will include non-ISB graduates too. Our selection process has various stages, first being a questionnaire, having 5 important questions, touching upon the business idea, market, team, and future plans. After short listing candidates for the interview we have a final presentation. Subsequently, the final selection is done. The selected teams have to submit quarterly reports on progress and if it's not up to the expectation, we can stop incubation mid-way.
BT: What is the fee charged by you or do you take stock options in the companies of your incubatees?
KT: We don't charge any fees; instead we give them on-campus accommodation and a stipend. We expect that successful incubatees will donate 3-6 per cent equity to ISB.
BT: What are the major challenges or risks in being an incubator?
KT: The major risks as an incubator we face is that being an educational institute we have our limitations to support a certain number of people or ideas but we are trying to replicate in order to help more. Incubatees expect that they will be continuously spoon fed but then we have to make them face the reality that incubators are there to guide and support but the main work has to be done by them. Other hindrances include limitation of funding size and creation of a sustainable ecosystem. We have been talking to banks for debt-funding instead of equity funding.
BT: What is the composition of your mentor team? What kind of mentoring do you give?
KT: Our mentoring process is in the form of diverse sessions addressed to groups or individuals depending on the needs. We have sessions on strategic pricing, brand-building, operational aspect, how to keep the cash-flow, future growth. Our team generally consists of ISB professors, industry experts and some Venture Capitalists.
BT: What is your ratio of selection?
KT: We started last year; we received 60 applications but finally selected 10. After selection also there might be some drop-outs due to poor performance.
BT: What is the usual duration of incubation?
KT: At present, officially the maximum duration is 2 years but after that too we unofficially help them, to an extent.
BT: Which business sectors/types are most suited for incubation?
KT: As such we do not have any preferences as we believe in the student's interest and enthusiasm and the various opportunities available. We look for diverse areas like health, agriculture, services etc.
BT: Do you think Incubation has been effective in producing new entrepreneurs?
KT: For India to grow at a good pace it is absolutely necessary that new and small enterprises are supported and put in the forefront. A study conducted on new businesses has revealed that in the next 10 years there will be a $400 billion market. Incubation is one of the effective methods to support new ideas and businesses.