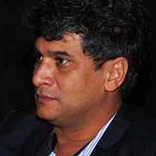 Sushanto Mitra
Chief Executive Officer (CEO), Society for Innovation & Entrepreneurship (SINE) IIT Bombay
Society for Innovation and Entrepreneurship, at IIT Bombay, is an umbrella for promotion of technical entrepreneurship. SINE aims at creating an ecosystem, which supports technology based innovative ideas. Mr. Sushanto Mitra, Chief Executive Officer, Society for Innovation & Entrepreneurship (SINE) tells us how the institution nurtures budding entrepreneurs.
Bhuvnesh Talwar (BT): What does your role as an incubator entail?
Sushanto Mitra (SM): We at Society for Innovation & Entrepreneurship (SINE) provide required infrastructure, seed-fund, mentoring/advisory services and networking opportunities to incubatees. We facilitate networking with mentors, experts, consultants and advisors.
BT: What procedure does an entrepreneur follow in order to be chosen for incubation?
SM: The entrepreneur has to submit a business plan, which is reviewed by our panel of experts. The plan is screened for its technical and market feasibility. Based on the review, we take the final decision.
BT: What is the fee charged by you or do you take stock options in the companies of your incubatees?
SM: We provide infrastructure at a subsidised rate and free services to companies. In return, we take an equity stake in the company and/or royalty on sales.
BT: What are the major challenges or risks in being an incubator?
SM: We invest time and money into a company at a very early stage much before other angels or VCs so the risk of the venture collapsing or the incubation centre getting delayed returns is high. The major challenges include getting a steady flow of entrepreneurs with viable business plans, adding value to them in all forms, business growth, team, investments, and ethics etc.
BT: What is the composition of your mentor team? What kind of mentoring do you provide?
SM: Our team comprises professionals with banking, legal and financial services experience. We provide assistance to companies in building their business strategies; raising capital; and recruitment, legal and accounting areas. We also, periodically, review their progress and suggest mid-course correction if required. Many times, we suggest companies to have mentors who are entrepreneurs, investors, or industry professionals.
BT: How many applicants get selected, on an average?
SM: On an average, out of 20 applicants only one gets selected.
BT: What is the usual duration of incubation?
SM: On an average it is 3 years but it also depends on the kind of project or the nature of a business. Even after the official termination of the period, we try to help the client unofficially.
BT: Which business sectors/types are most suited for incubation?
SM: We take in companies that have a technology or intellectual property. However, in my view companies from any sector can be incubated, the only exceptions are projects that are capital-intensive and region specific.
BT: Do you think Incubation has been effective in producing new entrepreneurs and is the awareness level, in India, about the incubation concept good enough?
SM: Yes. For India to grow at a good pace it is absolutely necessary that new and small enterprises are supported and put in the forefront. Unfortunately, the awareness level about the concept of incubation is still quite low.