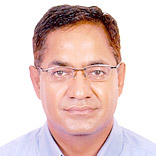 CRISIL is India's leading Ratings, Research, Risk and Policy Advisory company.  It has been committed to development of SMEs, getting access to easy loans and giving then due recognition. Mr. Yogesh Dixit, Head-SME Ratings, CRISIL Ltd.  bats for the SMEs and confirms that they are completely creditworthy as against the general notion.  
Bhuvnesh Talwar (BT): How popular is credit rating in the SME sector? Basically the awareness level-has it been on a rise?
Yogesh Dixit (YD): There is a lot of awareness in the SME sector but still a lot needs to be done because this sector is very vast and widespread. As SMEs are spread throughout India, both urban and rural areas so a huge network needs to be built to get everyone together. More that 26 banks have entered into an agreement with Crisil SME Ratings thereby covering numerous industries.
Credit ratings are essential because they serve as an identity for these companies and help in increasing banks and financial institution's confidence on their credit worthiness and help in building better relationships.
BT: What are your criteria while assessing the credit worthiness of an SME?
YD: Our criteria for assessment of a company's credit worthiness are based on a 360 degree analysis mechanism or can be also referred to as All Round Checks. In this we have four major parameters- Management Competence, Industry Check, Financial Report and Business Strength (includes product and marketing plans). It takes us around 2-3 weeks to prepare the final report as we go for site visits, talk to the promoters and do our analysis.
We have two rating scales for the SME sector: The NSIC-Crisil Performance and Credit Rating scale for Small Scale Industries (SSI) and Crisil SME Rating scale. The NSIC-Crisil scale measures performance capability and financial strength as two distinct dimensions. Performance capability is measured on a five-point scale (1-5) and financial strength is measure in three categories (A to C). So overall it looks like SE 1A- SE 1C to SE 5A- SE 5C.
Crisil SME Rating scheme offers ratings to the larger domain of SMEs. The SME Rating scale is an eight-point scale (SME 1 to SME 8) that symbolizes the rated entity's creditworthiness in relation to others.
BT: What are the various deterrents for SMEs as far as credit rating is concerned?
YD: The basic problems which SMEs face are firstly, the money or fee involved for undergoing this exercise and secondly, they are reluctant in divulging their corporate details as they fear losing confidence. We also as a credit rating agency had problems in the beginning as there was lack of awareness among SMEs about the importance of such a thing. Our notion was to serve the SME development cause for getting easy finance and recognition but our challenge was to tap these companies as they are widespread and so not easy to be accessed.
BT: Being a credit rater what is your opinion about SMEs in terms of credit worthiness?
YD: SMEs have traditionally been perceived as less creditworthy as compare to larger corporates and so the normal understanding is that the risk is higher among SMEs. To see how valid this perception is we conducted a recent study which clearly indicated that in reality a lot of SMEs were very good. Crisil's study shows that SMEs present a strong financial profile; they compare well with their larger cousins on several debt-protection parameters and are more bankable than they are generally perceived to be. Although SMEs do not fare well on the profitability front, possibly on the account of competitive pressure they face, this impact is offset by more favourable debt-equity levels.
Having said the above SMEs differ widely from one another in performance and credit quality. So, all SMEs cannot be judged on a general perspective and the traditional notion of SMEs being risky is not completely and always true.
BT: Apart from ratings what other services do you provide SMEs and banks/financial institutions?
YD: Apart from ratings we give advisories to banks, companies and government. Recently we had given our analysis report on CGTSME. We also conduct cluster study for SMEs which means we see which businesses are prominent in what areas. We also organize awards ceremony for best enterprises in partnership with CNBC.
BT: Has there been any improvement in SMEs performance and how do you see them for the future?
YD: Of course the performance of SMEs has been on a rise and they have become very active in performing their credit worthiness check. Generally around 40% of the companies' comeback to us for their rating.