Meet Lisa Srao, founder of the fastest growing liquor start-up in India
Being a women, Lisa Srao, founder of I Brands Beverage Ltd, encountered all the criticisms and dared to venture into the liquor industry
Tags: Alcohol industry, I Brands Beverage Ltd, Lisa Rao, liqour industry, entrepreneur, woman entrepreneur
BY Aparajita Choudhury | November 06, 2014 | COMMENTS ( 0 ) |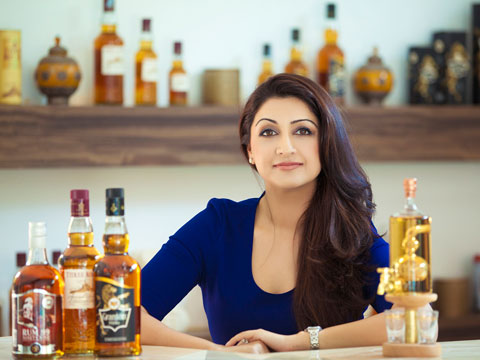 Lisa Srao
Founder, I Brands Beverage Ltd
Alcohol industry is considered as one of the most criticised industries in the world. Being a women, Lisa Srao, founder of I Brands Beverage Ltd, encountered all the criticisms and dared to venture into this industry. The company was established in the year 2008, but made its India entry only in the year 2010 with the launch of three products – Three Royals, a premium segment whisky, Granton (flagship product) - a value segment whisky and Rum 99 - a Jamaican flavoured dark rum.
Entrepreneur India catches up with Rao to get an insight into her entrepreneurial journey, challenges faced and understand her future vision for the company:
Having worked in the top media companies, what inspired you to venture into the liquor industry?
I was born and brought up in the UK. As a creative person, I was drawn to the media industry and that is why I chose it as a career. However, I have long been inspired by the liquor industry being exposed to Double Dutch, a beer brand that my father launched in the UK, 15 years ago. When I first moved to India, I noticed that products in the price sensitive bracket, at that point of time, were of very low quality standard and good quality products were extremely expensive. In the liquor industry, I found a very specific gap in the market.
The premium liquor segment in India's mass market was completely under-utilised. This is when I envisioned building a liquor business in this country that provided the market with value for money products. However, having entered this monopolistic and cut throat industry, I believe I was born to be in this business. I love the challenge of being the only woman having created a spirits business from scratch. Even though this industry was something that I had not always intended to get into, it is something I feel I thrive in today.
Can you give a glimpse of your entrepreneurial journey so far?
We commenced India operations in August 2010 with the launch of Granton Whisky, our flagship product. Today, I Brands Beverages is an award winning company and one of the fastest growing liquor start-up in India. We have 4 products in our portfolio - a premium whisky brand - Three Royals (MRP: INR 350 – 735 for 750 ml), a deluxe whisky brand – Granton (MRP: 230 – 495 for 750 ml), which has recently been awarded for its packaging at the INDSpirit 2014 Awards, Jamaican flavored dark rum - Rum 99 (MRP: 210 -330 for 750 ml) as well as a rare French brandy – Granton XO Brandy (MRP: 280 for 750 ml).
What were your entry barriers at the initial stage?
We faced a lot of challenges initially. The biggest challenge was perhaps that the liquor industry was a financial intensive industry, and at the point I didn't have the kind of funds to play with. Also, being an unknown company, we had a hard time getting distributors to work with us. Regulations in each state is also very different from the other in terms of excise duties, tastes, language liquor preferences, licenses required etc., which makes this business incredibly challenging.
We took a slow and steady approach following a semi urban – village route in distribution developing a solid base foundation in the states that we are present in, before opening up to other states. Today, there has been a phenomenal response to I Brands' products across the country. It is the popularity and quality of the products that have allowed the company to not only sustain itself in thi tough and complex industry, but has also doubled turnover in just 3 years, surpassing the million dollar mark!
Must Read: How Rennu Dhillon built Genius Kids from scratch
Being a woman, did you face any sort of criticism from the society?
There will always be people who are anti liquor, but this industry is just like any other industry and obviously a lucrative industry. You can understand this from the number of foreign players consolidating this market. This industry is now no longer controlled by the thekawalas. It is constantly evolving and is moving towards FMCG which means we can provide consumers who wish to drink, the best choice in good quality products.
Did your family play supportive role in your decision to venture into the liquor industry?
Since childhood, my father has always encouraged me to do anything that I wanted to do. He is the one that engraved me and my sister with the thought that a woman can achieve anything if she is driven to do it. He is my guide and I always seek his advice whenever required.
My Husband too, has been my source of strength for always standing beside me when the world thought otherwise about my vision. When I first started this company, he accompanied me to many meetings to ensure my safety and despite facing huge hurdles while setting up the company, he encouraged me throughout.
What was your seed capital and what kind of transformational growth the company witnessed till date?
We started with Rs 1 crore capital and have invested around Rs 25 crore into I Brands till date. I will not be able to share our turnover figures for the last year, given that we are still an infant company; but we are growing rapidly. In our fourth year of operation, we are present in Punjab, Haryana, Chandigarh, Assam, Arunachal Pradesh and Uttarakhand in the North and Goa and Pondicherry in South India and across 5,000 point of sales.
We have just received our first paramilitary orders as well. Our products have been gaining noticeable market acceptance and Granton Whisky, our flagship product has been flying off shelves. We have plans to expand footprint in Delhi, Rajasthan, Tripura and Meghalaya to organically grow across Northern India. We are also looking at launching in Karnataka, Andhra Pradesh, Telangana, West Bengal and Andaman & Nicobar Islands in the next couple of years. In the next three years, we plan to surpass the 100 crore mark in terms of revenue.
What is the number of headcount you have at present?
We have over 70 employees working with I Brands Beverages, excluding the distributors we work with.
What will be your message to the youth of India who want to venture into the liquor industry?
I would say that simple things like paying attention to detail, setting a clear vision and goals and believing in oneself will help young entrepreneurs achieve what they want. Always dream big! Blaze new paths and don't allow yourself to be restricted by outdated traditions (and this is especially for women). Pay attention to details in your business and know your strengths. Take on challenges and look to learn constantly. Live your life with passion and boldness and don't take a job for the sake of it. Love it. Own it. Life is an adventure, be prepared to take risks.
The liquor industry in India is around $9 billion, what opportunities and challenges do you see in this industry?
The liquor industry is a very capital intensive industry and it takes longer to break even. Most liquor start-ups have been known to shut shop with the first six months of operations. Also, it is very male dominated – for a woman to find feet in this industry or making a mark, it is extremely difficult.
Additionally, every state in India is like a different country with different excise policies, labelling laws, tastes, palates etc. There is a big opportunity here for the government to create the conditions to make doing business in India much easier.
A uniform, harmonized state excise policy and simplified labeling regulations would help grow revenues, lessen complexity in the trading environment, make it easier for the authorities to reduce illicit alcohol production. The opportunities for us are immense as there are not many players with the premium focus strategy and a slow and steady approach that we have.
How do you to gain margin while simultaneously maintaining both international quality and affordability of the products?
It has been our philosophy all along that to gain market share one must always exceed customer expectations. All of I Brands products are of i9nternational standard quality. They have a fine blend with superior packaging. The products are the stars here. It is my belief that if a product is phenomenal, the company will eventually become profitable. And since we are a young and innovative company, we can change and adapt our products as per consumer feedback, which some of our competitors might not be able to do so. We have received 4 awards in our fourth year of operation including the Innovative Start-up of the Year award in 2014, which is our first national non industry specific award. The award is itself a testimony to the hard work that I Brands' team has put in to achieve a significant scale in this industry.