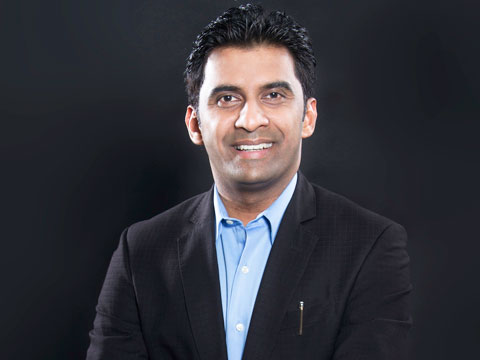 A chemical engineer by education, Shripal Gandhi is one of the many NRIs who have transitioned to India from US (where he led technology developments for a leading nanotechnology company) to explore the world of entrepreneurship.
After completing graduation in chemical engineering from the University Institute of Chemical Technology, Mumbai, Gandhi moved to the University of California, Riverside (UCR), to pursue post graduation in Chemical Engineering with specialization in nanotechnology. He wrote several papers in critical acclaimed scientific journals and has 11 patents in Nanotechnology.
Moreover, he also worked with a leading nanotechnology firm Unidym, Palo Alto, California, where he drove the developments for commercialization of transparent conductive film applications.
"I have always believed in dreaming big. There have been a number of inspirations, but of all, it was a sense of passion to influence the digital revolution that drew me to think entrepreneurship seriously and made me move back to India from US," said, Shripal Gandhi, Founder & CEO, Swipe Technologies.
In his overseas stints, Gandhi worked with iconic technology firms such as Samsung (Korean Division), Motorola, Apple etc., developing the next-generation touch screen technologies for handsets and portable navigation devices and other consumer electronic products in the US, Korea and Japan.
"While I have lived the American dream, my career's turning point was living the Indian dream with setting up of Swipe. India offers great opportunities in technology space and I am happy to have taken this opportunity. With a great team with me, I am sure of achieving the Indian dream not only for myself, but for many others and make an impact in on Digital Communications space in India," reminisces Gandhi.
The journey begins...
Gandhi kick started Swipe Technologies with a vision to empower India to become one of the top 10 nations in the world in terms of the availability of new tablet technologies, innovative solutions through R&D support and strategic vision.
"Affordable cutting edge technology is just a Swipe away and in 2012, I finally founded my dream project - Swipe. I conceptualized and implemented the fastest design cycle time in the industry to ensure the shortest time-to-market amongst the competition for product development," states Gandhi.
Swipe Technologies has been kicked off in India with a strong base of 600+ support centres across the country and with a seed capital of Rs. 2 crore. The company has raised Rs. 30 crore ($5 million) in the first round of funding from Kalaari Capital on April 2014.
"We are using these funds to enhance our research, technology and marketing and we are confident of delivering up to our investors' expectations to be able to get the next round of funding in next couple of quarters," avers Gandhi.
Swipe technologies have received overwhelming trust and support from the Indian consumers for its products in a short span of time. The sense of optimism among the consumers has so far encouraged the company to develop and bring new and improved mobile personal computing devices to the market.
From the scratch
Every entrepreneur has to go through a number of challenges towards the path of building a successful venture especially in a highly competitive and rapidly-changing industry. Therefore, it is very crucial to recognize the changing behaviour of the consumers and adapt to them instantaneously.
Given the fact that the buying behaviour of the consumers is rapidly changing, Gandhi differentiates its offerings by providing better, faster and more affordable products to customers. Gone are the days where an effective marketing campaign can sway the consumers, today people judge tablets or fablets based on their technology.
Technological obsolescence also pose challenges as a brand new technology may be obsolete tomorrow. "We need to be ahead of the curve to ensure that we develop products that have longer shelf-life and strong appeal to our target consumers. And in many instances, we are required to anticipate the patterns of consumer preferences," says Gandhi.
If one has to sustain in the competitive business environment, then finding ways to remain cost competitive while delivering the best quality products can lead one to stand against established players. Constant innovation, hard work and consumer support can play a significant role of growth catalyst and help one to achieve a new hike.
Keeping in mind the technology requirements and specific needs of the Indian consumers, Swipe has introduced Tablet PCs and fablets with distinctive features and specifications that benefits users in many ways.
Gandhi is very optimistic about its growth trajectory and says that we have been able to live up to the rising expectations of our customers and are confident that we will be able to deliver innovative products in future as well.
Product offerings
Since inception, Swipe has been on a mission to develop feature-rich and affordable mobile communications devices with cutting-edge technology. The company has so far introduced a variety of bestselling tablets, from the Swipe Halo Value, to the Swipe Monster Tab, which the company claimed has been instant hits and has far exceeded the company's own sales estimates.
"Over time, Swipe has built an unconventional approach to product development by reducing design-cycle time to 3-4 weeks flat. So far, Swipe has launched a range of 25 products – which include Tablet PCs and Fablets – eight of which are the "first-to-be-launched" in the country!" says Gandhi.
Initially in 2013, the major revenue of Swipe Technologies was coming from wifi tablets but recently market has witnessed a shift towards connected or calling tablets with 2G/3G inbuilt modules. Following the shift in the consumer behaviour, the company has customized its product portfolio. Gandhi states more than 80 per cent of tablet portfolio is from 2G/3G tablets. 
Given its technological strengths and clarity of operations, Swipe was chosen by MTV to design, develop and manufacture devices for them out of a list of top Tablet PC manufacturers in India. The result of the collaboration was the "Swipe MTV VOLT", India`s first co-branded 6" Fablet.
Going Forward
Swipe Technologies has experienced strong growth in the last financial year with revenue of Rs. 1 billion in FY 13-14. This financial year, the company is targeting sales of over Rs. 1.8 billion and for FY15-16, it is eying for Rs. 3 billion. In terms of verticals, the company will be focusing on BSFI, retail, pharma, hospitality, automobile, manufacturing and logistics.
Under the leadership of technocrat Shripal Gandhi, Swipe has grown at an above-market rate of 35 per cent since inception quarter-on-quarter for the last 6 quarters. The company's strategy is to capture market shares in Tier-2 and Tier 3 cities and towns rather than to fight it out in the metros. This strategy has worked wonders for Swipe by virtue of having pole position in the states of Rajasthan, Jammu & Kashmir, Punjab and certain North Eastern States.