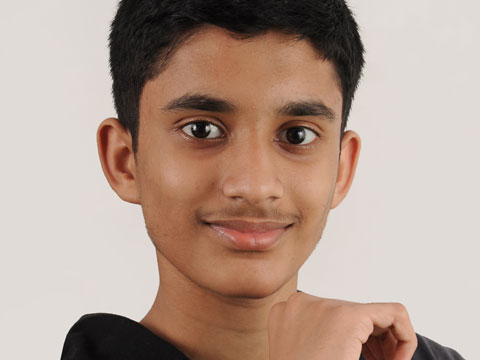 S. Arjun from Chennai is a class 9th student of Velammal Vidhyashram in Surapet. This young boy is the owner of 'LateraLogics'. He has developed a host of award winning apps like Ez School Bus Locator app, which is an innovative Android phone app that helps parents to view the location of their ward's school bus on a map.
Recently, he was bestowed with the most coveted national child award for exceptional achievement from President Pranab Mukherjee on Children's Day. At present, he is working on developing a new robotics app - 'iRobots', designed to control robots from a cell phone.
In an interaction with EntrepreneurIndia.com, S. Arjun, founder, LateraLogics, shares his eventful journey of becoming the youngest CEO of the country:
What inspired you to develop such interesting applications at an early age?
The idea to develop Ez School Bus Locator took birth when I experienced my parents' agony on the school bus arriving late one day. I developed this app out of my desire to help parents around the world. My other app – iSafeGuard is a tribute to all the young girls who face serious safety challenges living in this modern, yet orthodox society.
I get inspired from the everyday problems that I see around me. I draw inspiration from many great people around us who've shown examples of innovation and creativity, including Steve Jobs and Pranav Mistry.
Tell us more about your existing apps?
It is an innovative Android phone app that help parents, both with smartphones and ordinary phones, to view the live location of their ward's school bus on a map, check whether their ward is present inside the school bus and know in advance when (distance and time) the school bus will reach home.
This app helped me win the first prize (K-8 category) in the Massachusetts Institute of Technology (MIT)'s App Inventor App Contest held in December 2012. My latest app 'iSafeGuard' is a women and teen safety mobile app. This is my tribute to the young girls and women, who face many challenges to live safely in today's world.
This app is designed to help women and teens in distress (both with smartphones and ordinary phones) to send calls (SOS messages) with location details to friends and family members whose numbers have been pre-set, and alert local community (volunteers who have this app installed in their mobile devices and who are in the vicinity of the incident) near the spot to reach out to the person in danger, without waiting for the police.
What encouraged you to become a mobile application programmer?
I always used to get fascinated by emerging technologies in electronics, programming, artificial intelligence, and robotics space. I was lucky enough to get started on this right from a very young age. I got quite amazed at how mobile phone apps are being used nowadays and the endless possibilities they carry for making life easier.
What are you currently working on?
Presently, I am working on a robotics app, especially designed to control any Lego Mindstorm robot. I also have plans to create an intelligent personal assistant application that can interact with us in more natural ways, and a community app that can help people respond to everyday situations in more engaging ways. My dream is to establish LateraLogics as one of the most innovative and successful companies in the world.
How does your business model look like?
My mobile apps are currently available for free. But, I am working on a subscription-based (white-labelled) model to sell apps commercially (in addition to the free version) to schools and organisations.
I am also engaged in the design and development of a tablet-based performance support app for a leading manufacturing company that helps its technical support staff (travelling across India and overseas to install and commission their new engineering products at their end users' sites) scan the QR-Codes placed on the various parts to view short 'How-To' videos for aiding in assembling of their machines effortlessly and a smart phone-enabled Quality Management System (QMS) app for the internal use of a leading learning company aimed at aiding their employees with ubiquitous access to their QMS information (such as Checklists and Job Aids).
Besides, I am also offering consulting and training services in mobile and tablet app design and development under LateraLogics.
How do you strike a balance between work and studies?
It's not easy at all. But, I am trying my best to manage both. I thank to my parents for their wonderful support. They have always given me a freehand in whatever I do. I am also grateful to my wonderful teachers and my school for the amazing support and encouragement. All this encourages me to strive hard to achieve new milestones.