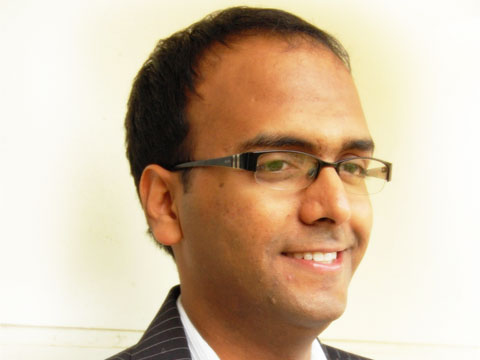 Like many other aspiring students, Saurav Modi, soon after his post graduation from Christ College, Bangalore, chose to pursue his career by taking up a well-paid job. The dream ended up by being a tax analyst at Ernst & Young. But Modi did not find the job too attractive to continue and moreover, the family business of wholesale tea distribution didn't excite him much. Suddenly, the idea of starting a new business in Jute products struck his mind.
"My angel investor was my mother who lent me Rs 8,000 to pursue my dream. With this, I bought a second hand machine and rented out a small garage at a measly Rs 300 per month way back in 2005. From there on I burnt the midnight oil for the next three years and did each and every work from cutting to printing, packing and delivering the goods myself," says Saurav Modi, Founder, Just Jute Products and NYK.
Foundation Stones
In 2005, Saurav Modi laid the foundation of Just Jute Products and in January 2013, he launched 'NYK' brand under the parent company. The brand has an in-house manufacturing facility in Bangalore with an annual capacity to manufacture 100,000 units of ladies hand bags in a year. Currently, NYK is available in the central chain of stores in Bangalore, Surat and Ahmedabad and are also available on Myntra, Jabong, Flipkart and other popular online portals.
"With vast experience, NYK guarantees a product of the highest quality combined with best material and great craftsmanship. From the beginning my concentration was on providing value added products along with world class service," lauds Modi.
The company offers a vast collection of ladies handbags, slings and wallets. Today, Just Jute Products has established a factory spread over 12,000 sq ft with over 100 people.
Entry Barriers
Albeit the problem of seed capital was sorted out with his mother's help, the trouble continued to stand as a barrier in the growth path of the company. To overcome this challenge, Modi has gradually built a strong trustworthiness with bankers and suppliers, who have been an integral part of the firm's growth.
Another major hurdle was the lack of skilled workforce because a team of industrious people can only erect a successful organisation. "It was a big hurdle to get skilled workers who could make a quality product. We are slowly training local people who are now masters of bag making," states Modi.
Given the fact that Jute industry is predominantly present in the Eastern part of India (mainly in Kolkata), Modi realised that his search for skilled workers for making Jute bags would end up in Kolkata only. And the strategy finally worked!
"We were lucky in finding some people initially who became an integral part of the organisation. They helped us connect with some more skilled workers from Kolkata. Now, we employ people locally and train them on the job," Modi says with a grin.
A Glimpse of Jute Industry
A dynamic shift has been observed in the usage of Jute bags over the past years. Earlier, it was used as a free shopping bags at retail outlets which now has completely died out and has been replaced with a plethora of inexpensive options.
Now the industry seems to be driven by the corporate sector. As a part of the CSR agenda, these companies carry out many activities in the interest of the environment in general. Besides, the huge demand for jute products from the overseas market has boosted the export market in India. This swing in the trend has stirred Modi to increase its presence amongst the corporate and export clients, wherein they can generate relatively bigger quantities. The strategy enables them to produce bags on better economies of scale.
However, there are some major challenges which deprive players to thrive in this industry. The surge in the prices of Jute is one of them. There has been a sudden increase in Jute prices in the recent past due to which the prices of the Jute products have become alarmingly expensive.
SMEs contribute a lot in the economic growth of the country and play an integral part in generating employment in the marginalised society. But still the sector does not get the kind of attention from the government they deserve due to the dearth of incentive schemes available for entrepreneurship.
When asked about the major hurdles SMEs in jute industry face, Modi says, "In my opinion there are no major hurdles, nevertheless the government can consider some of the factors like controlling the price of Jute Fabric the basic raw material, initiate a programme to encourage the people to use re-usable bags which in turn will reduce the use of plastic bags and increase the demand for jute bags, reduce the VAT rate which in turn will make the final product cheaper and making jute bags mandatory for certain uses."
Government Initiatives
The Ministry of Textiles (Government of India) has set up the National Jute Board (NJB), an independent body which allows any Jute manufacturer to become a member of this board. NJB assists its members in various ways by participating in domestic and international trade shows, wherein they can showcase their products to the right clients. It also has various financial assistance programmes for the members.
"The NJB has been quite successful in implementing the various schemes for SME Jute players and I believe the scope is huge for people who have the right focus," asserts Modi.
There is also a scheme initiated by the Central Government called the CGTMSE – under this scheme deserving SMEs can borrow up to Rs 100 lakh collateral free loan from banks.
Road Ahead
The biggest achievement of Just Jute is that the organisation has created career opportunities in the Bottom of Pyramid segment. The company has a capacity to manufacture 400,000 units of jute bags per annum. In terms of product sale, Just Jute has closed at $0.9 million in FY 2014 and estimates a turnover of $1.5 Million in FY 2015. The company aims to reach 3,000 units in sales in FY 2015 and by 2017; it will open 7 to 8 exclusive NYK stores in Bangalore and Hyderabad.