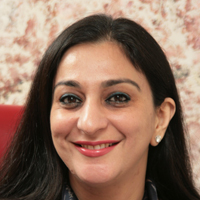 What was the motivation behind starting your own venture – SkinAlive Clinics?
I have been practicing in the field of Cosmetic Dermatology and Laser Medicine for almost two decades. After acquiring a degree in Dermatology, Venereology and Leprology from Maulana Azad Medical College (MAMC), New Delhi, I decided to start a clinic of my own rather than practice at a hospital to augment my training and skills in the field.
In 1997, we gave shape to our dreams through SkinAlive with the first clinic at Panchsheel Park, New Delhi. I wanted to establish SkinAlive as an incomparable brand in the field. My idea was to become the focal point of all latest technologies in the realm of dermatology and cosmetology. Over the years, we have made sure to bring every new path breaking technology introduced anywhere in the world to India. Currently, we operate four more clinics in Delhi and NCR. Soon we are planning to expand our presence outside Delhi. 
What is the secret behind a sustainable beauty business?
The mantra is to offer the best and latest advancements to your clients. Keep adapting to the changing realities of the field. And win your clients' confidence. This is a business that grows the most by favourable word-of-mouth. At the same time, a negative word of mouth can wreck your business in 10 days what you accomplished in 10 years. So you have to be very cautious. Never treat any procedure lightly. Give the same attention and precision to everything to do. This is how clients' confidence is won. And once you have the client's trust, he or she will always come back to you and bring others along.
What were the challenges faced by you in building an enterprise?
When we started, our idea was a little ahead of the times. In the late 1990s, the idea of cosmetic procedures had not caught up the imagination of the people like it has today. There used to be a dedicated set of people who regularly visited beauty clinics and seek treatments but the masses were not so much into it. So the initial challenge was to convince people to this idea. When we added to our clinics, the challenge became wider. Today the challenge is to ensure that all our clinics provide the same degree of quality treatments and procedures.
Please share some upcoming trends in the beauty and cosmetic surgery industry.
The anti ageing and facial contouring market is the next big thing in the industry. Anti ageing treatments are already among the most demanded treatments. The idea of ageing gracefully and beautifully is fast catching up and everyone is sold out. In recent years, we have also seen an increasing interest towards facial contouring – both surgical and non surgical. In the coming few years, people will become more receptive to procedures like lip or chin augmentation, cheek implants, smile correction or any such procedures that help change your facial features towards the better.
We have introduced a new treatment recently and the same has received great response. CoolSculpting is a non invasive procedure to remove body fat and get a fine body. We were the first to introduce this revolutionary treatment in India.
What has been your biggest obstacle of being a 'woman' entrepreneur and how did you overcome it?
My biggest challenge, interestingly, did not come from outside. It was more about fighting my own demons. When I started, there was always this question at the back of my mind as to 'whether I will be able to do it'. I overcame it by going all out and ahead even when I faced a confidence crisis.