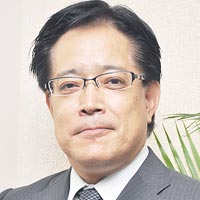 In an interview with SMEntrepreneur, Toru Hasegawa, Divisional Managing Director, System Sales Division, Panasonic India, tells us the importance of SMEs in their business plan.
What products and services does Panasonic offer to SMEs?
Panasonic offers a wide range of products for SMEs and has a set of services that are designed to complement and enhance SMEs at every business stage. We are understanding the needs of Indian consumer and provide customised solutions. We have modified our products as per the requirements of our customers. Panasonic offers following products for SMEs: Projectors, Printers, Phones and Communication, Professional Display Panels, Security Systems and Toughbook.
How do these services help SMEs in the business?
We have introduced products that are specifically designed keeping in mind the needs of SMEs and to simplify everyday office work with easy to use and energy saving features.
The smart offerings from Panasonic help SMEs and SOHO users to save space (cut installation area), time, paper and energy costs through its innovative features.
Moreover, our products come in extremely compact bodies that solve space problems in small offices.
Video solutions enable SMEs not only reduce travel cost, accommodation cost or time, but also to increase the overall productivity of the business by enhanced collaboration. SMEs can use video solutions for different tasks, such as job interviews, meetings, product demonstrations, trainings and Remote Healthcare.
SMEs can communicate using video solutions with far-end location to close deals at high video and audio quality. Manufacturing companies can deploy this solution to show their minute parts of equipment designs at high resolutions to customers sitting at far locations.
With a steadily increasing number of professionals bringing their work and meetings beyond the office, mobility has become a crucial factor in determining business success today. Combined with the latest computing technologies encased in a sturdy, shock-resistant body, the Panasonic Toughbook offers an effective solution to enabling increased business productivity with the perfect balance of portability and power.
What problems does an SME face in adopting these services?
Indian SME's are predominantly preoccupied with finance and management issues. SME sector needs more support from the concerned government departments, banks, financial institutions and corporate. The absence of requisite assistance proves to be a handicap in adopting the services. SMEs face a number of problems – absence of adequate and timely banking finance, limited capital and knowledge and are thus hesitant to buy the services.
Some of the employees holding supervisory and managerial positions in SMEs may not be IT literate and often have high resistance to the changes in the working process that they are comfortable with after many years.
Implementations of bigger scale projects especially those that involve business process across different departments or require large amount of initial data entries require human resource during the implementation.  Some SMEs are often in the stage of frequent firefighting and shortage of manpower.  This makes it very difficult for them to allocate time to carry out implementation.  Furthermore, there is always a conflict between getting the daily routing work going and to do the "Extra" IT implementation.
How much revenue does Panasonic generate from the SME sector?
Approximately 50 per cent of our business revenue comes from the SME sector. Panasonic panels, projectors and surveillance cameras are popular in the SME sector and we see a lot of traction coming from this sector.
Does Panasonic have any recent plans to introduce any new services for the SME sector?
We don't have any such plan as of now, but we are considering coming out with services utilising cloud for the SME sector.
Does Panasonic offer any special schemes or discounts to SMEs?
We believe that there is a lot of potential in SME development in the country, however due to lack of requisite funds, the sector is not able to grow exponentially. Although, the SME consumer is evolving, it is still a challenge for a brand to communicate its value over price as majority of consumers get influenced by the pricing over quality. In order to counter the challenge and the considering the competitiveness at end customer level, Panasonic comes out with various schemes from time to time.
 
What according to you is the future of IT industry in India?
The landscape of the IT industry is changing fast and many start-ups and emerging companies are finding themselves ill-equipped to cater to the ever changing needs of the consumers. Most of the service providers are uncertain about the ways and means to tap the emerging SME customer base, gain deeper knowledge about their prospective buyers and enhance their engagement mechanisms with them.
What challenges are faced by the IT sector in India?
Indian IT industry is facing challenges like employability, infrastructure, advantageous policies and competition from other low cost countries. Another major issue is funding. Many start-ups require small funds to start and complete the first phase of their growth and attainingsuch small amounts is difficult.
Which sector is the main focus area for Panasonic in India?
Our main focus in India is mainly on the healthcare, security and education segment. We plan to introduce new product ranges for these sectors.
What are your expansion plans?
Keeping in line with the new global business plan, Panasonic India now has a renewed focus on the B2B and B2G business and is aiming of doubling the contribution of B2B segment to Panasonic's overall revenue by 2015. Panasonic will be introducing new product ranges in this segment mainly in the healthcare, security and education space and will also be looking at collaborating with Indian enterprises for the same.