The pioneer of private education
After realising that there is more to life than just making money, Aseem Chauhan, Chancellor of Amity University, Rajasthan and CEO, Amity Incubation, Cell, returned to India from the US to contribute to the development of the nation and be content. Amity
Tags: Amity, Aseem Chauhan, MBA, entrepreneurship
BY Shambhavi Anand | November 21, 2009 | COMMENTS ( 0 ) |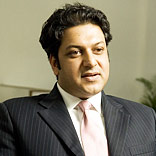 Aseem Chauhan
CEO, Amity Incubation Cell and Chancellor of Amity University Rajasthan
After realising that there is more to life than just making money, Aseem Chauhan, Chancellor of Amity University, Rajasthan and CEO, Amity Incubation, Cell, returned to India from the US to contribute to the development of the nation and be content. Amity is the proud pioneer of private education in the country. Aseem Chauhan in conversation with Franchise India Media.
Shambhavi Anand (SA): What was your inspiration behind setting up this university?
Aseem Chauhan (AC): All four of my grandparents were associated with the education sector so it has a special place in my heart. Also, I wanted to contribute to the national development and I believe education is one of the major sectors in the country that needs attention.
(SA): Please tell us about your educational qualifications and career track?
(AC): I hold a degree in finance and strategy-market from Wharton Business School, University of Pennsylvania. Post the degree, I worked for JP Morgan in New York. But I spent most of my time in the field of venture capital and leverage buyouts; and spent $1 million. Feeling home sick, I returned to India.
(SA): What differentiates Amity from other universities in India?
(AC): There is a big difference between Amity and other private universities. We pioneered the concept of private university in the nation. That is the main difference and also an advantage. We introduced the culture of private sector for higher education in the country. Starting early gives the advantage of being ahead of others. We are a brand now and a brand always stands for recognition, value and high quality.
(SA): Please share some upsides and downsides of being in education business?
(AC): The downside of being in this sector is that there is a lot of regulation. We have to deal with the government bodies a lot, which works at a very slow pace. There is a lot of corruption that makes work difficult. Now that we have a visionary education minister we are hoping that things will get better.
Initially, changing the mindset was a challenge. The people were apprehensive about private universities. The concept was new to the country and we had to work really hard to educate them.
The upside is that it gives you a lot of satisfaction. Working with the youth to improve their lives and thereby, bring about a change in the society gives contentment.
(SA): Education is supposedly a recession-free industry. However, to what extent did the placements get affected?
(AC): To get all our students placed was really tough during the downturn. Companies had put a freeze on recruitment. They had almost stopped hiring. But we were still better off than others. But we were always there for our students. Even those who had passed out were in touch with the placement cell and the faculty of our colleges. We supported them throughout.
(SA): What is the USP of Amity's MBA course?
(AC): Amity has been ranked among the top 10 B-schools by premier media houses. We employ a practical approach to teach. Besides being educators we are also entrepreneurs so we have the practical knowledge of the world. We know what it takes to run a business successfully. The practical knowledge makes us better teacher than those who just write books and study theories.
We also work in collaboration with the institutes abroad so that our students can visit them to learn the global approach. We also have an incubation cell where we nurture entrepreneurs, within the campus.
(SA): Tell us about Amity Incubation Cell.
(AC): Our incubation cell incubates 50 companies within the campus. Out of these 15 are companies of our own students and the rest are from outside. We offer all kinds of support ranging from getting venture capitalist to technical assistance. We are building a cluster of entrepreneurs around our campus.
(SA): Do you have specialised courses for grooming entrepreneurial talent?
(AC): Yes. There is a program called MBA-Entrepreneurship and leadership, which grooms entrepreneurs with a practical approach to the area.
(SA): There is an awful gap between the skills of university students and the skills required by the industry. What do you have to say about it? How are you dealing with the problem?
(AC): I agree with that. Most of the universities operate on prehistoric models. Their curriculum is sometimes not upgraded for decades and so they do not teach their students about the latest developments.
At Amity, we revise our syllabi every six months. We are deeply tied to the industry so we are better able to understand their needs and train our students, accordingly.
(SA): What are your future plans for Amity?
(AC): Expansion and growth are our major plans. Today, there two universities and 30 colleges across the nation. In future, we intend to have Amity's presence in every region of the country. We also plan to expand globally in places like Singapore, Africa, Middle East and the USA.